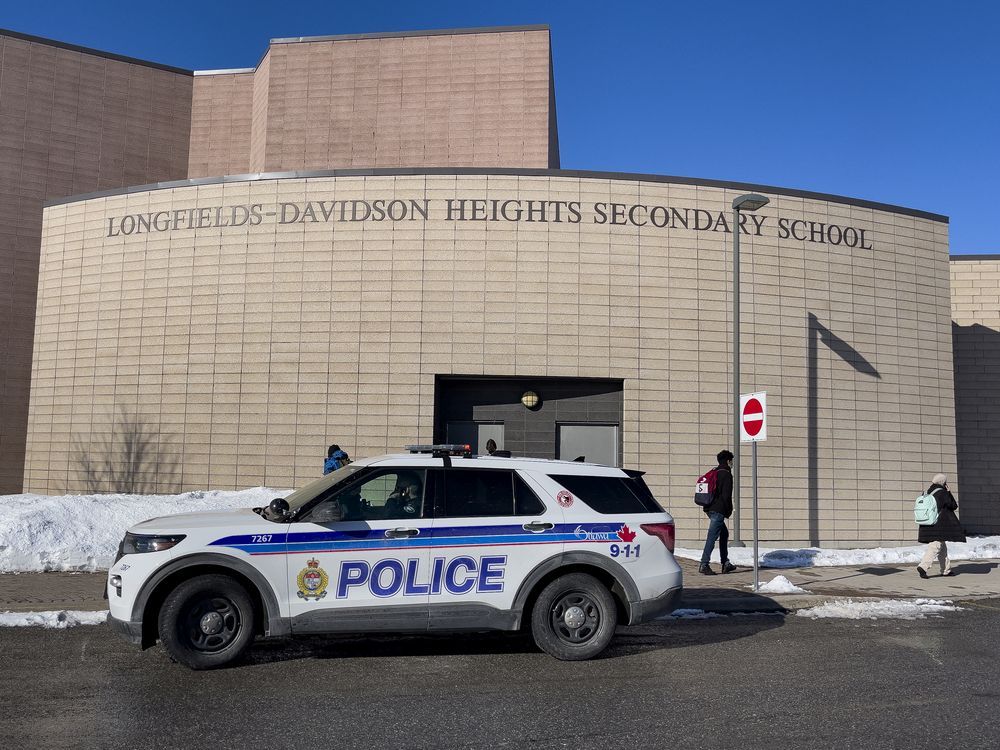 Altercation leaves teen injured at Longfields-Davidson Heights High School
Content of the article
A teenager was injured with a weapon at Longfields-Davidson Heights High School following an altercation Tuesday afternoon, Ottawa police, paramedics and school board officials said.
Content of the article
Ottawa Police Service units were called to the area at 12:45 p.m., a spokesperson said, after receiving a call about a 'disruption' at a school in the 700 block of Longfields Drive in Barrhaven .
"Frontline officers attended and secured the scene while Ottawa paramedics treated a person. The person was taken to hospital with minor injuries," the police spokesperson said. "The incident is under investigation and no further details are available at this time."
Paramedics took a teenager to hospital, an Ottawa Paramedic Service spokesperson said. The teenager had been seriously injured with a weapon, but his injuries were not life-threatening and his condition was stable, according to the spokesperson.
Content of the article
Darcy Knoll, spokesperson for the Ottawa-Carleton District School Board, said there was an altercation at Longfields-Davidson Heights High School and the school then began a "school safety procedure secure".
"In a secure school, staff and students stay inside their classrooms with the doors locked until the situation is resolved," Knoll added.
The OPS was on site and providing support Tuesday afternoon, Knoll said, and the school had been in contact with the family of the directly affected student.
"Students and staff are safe in their classrooms and the learning continues. We anticipate regular dismissal at the end of the school day," Knoll said. "We are committed to updating the community once we have more details."