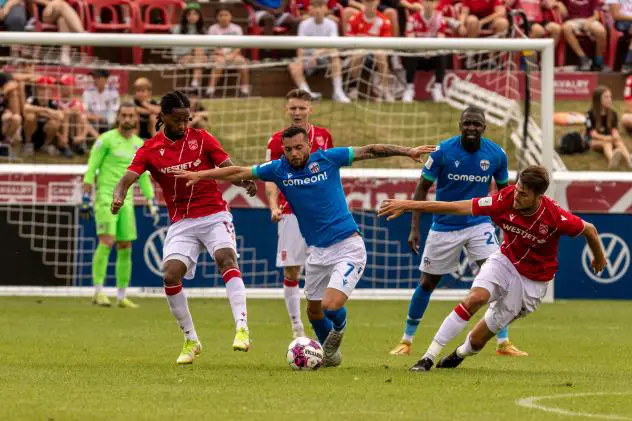 Atlético Ottawa dominates Cavalry FC, 3-0
August 21, 2022 – Canadian Premier League (CPL) – Atletico Ottawa News Release
Atlético Ottawa midfielder Keven Alemán against Cavalry FC
(Atlético Ottawa, Credit: Cavalry FC/Mike Sturk/Tony Lewis)
In a busy week with three games in three different cities and time zones, Atlético Ottawa were back on the road on Sunday, this time for their first-ever visit to ATCO Field in Spruce Meadows to take on Cavalry FC. With the opportunity to reclaim the top spot in the league with a win, Atleti entered scorching enemy territory and secured all three points in a convincing 3-0 win on the road.


KEY MOMENTS
Atlético Ottawa showed no signs of fatigue despite the short rest and the long miles covered before this game.
Midfielder Keven Alemán scored a stellar goal (45+2′) to put his team ahead seconds before the half-time break, leaving absolutely no doubt as to his intentions with the shot (unlike to his prodigious goal on Wednesday night), and scoring in a second game in a row.
The teams faced an extended half-time break due to threatening weather conditions in the region, pushing back the start of the second half by more than an hour.
Spaniard Sergio Camus made his debut for Atlético Ottawa coming off the bench in the 79th minute.
Forward Brian Wright added a safety goal in the 79th minute, his fifth this year. And Ollie Bassett added a third goal (89th), giving him squarely the place of leader of the team with six achievements on the season.
Newly added to the squad through the Vancouver Whitecaps FC 2 (loan) program, Calgary-born Owen Antoniuk got his first start with Atlético Ottawa today. A local product of Calgary Blizzard SC, Calgary Foothills SC and Whitecaps FC Alberta Academy Centre, the versatile midfielder played 45 minutes, scoring one shot on two big chances and regaining possession five times for his team.
With this 11th victory of the 2022 campaign (1!W-5D-5L), Ottawa regains first place in the Canadian Premier League standings with 38 points, three points now separating them from their next rivals Forge FC and Pacific FC (at tied for second with 35 points).
Ottawa will be happy to come home to their next game, one of the final three home games of the regular season, this Saturday, August 27 at 6:30 p.m. ET, when they host Ontario foes Forge FC at Place TD as part of a celebration of soccer for all. match.
Pictures from this story
• Discuss this story on the Canadian Premier League bulletin board…
The views expressed in this release are those of the organization that issued it and do not necessarily reflect the thoughts or opinions of OurSports Central or its staff.
report this ad