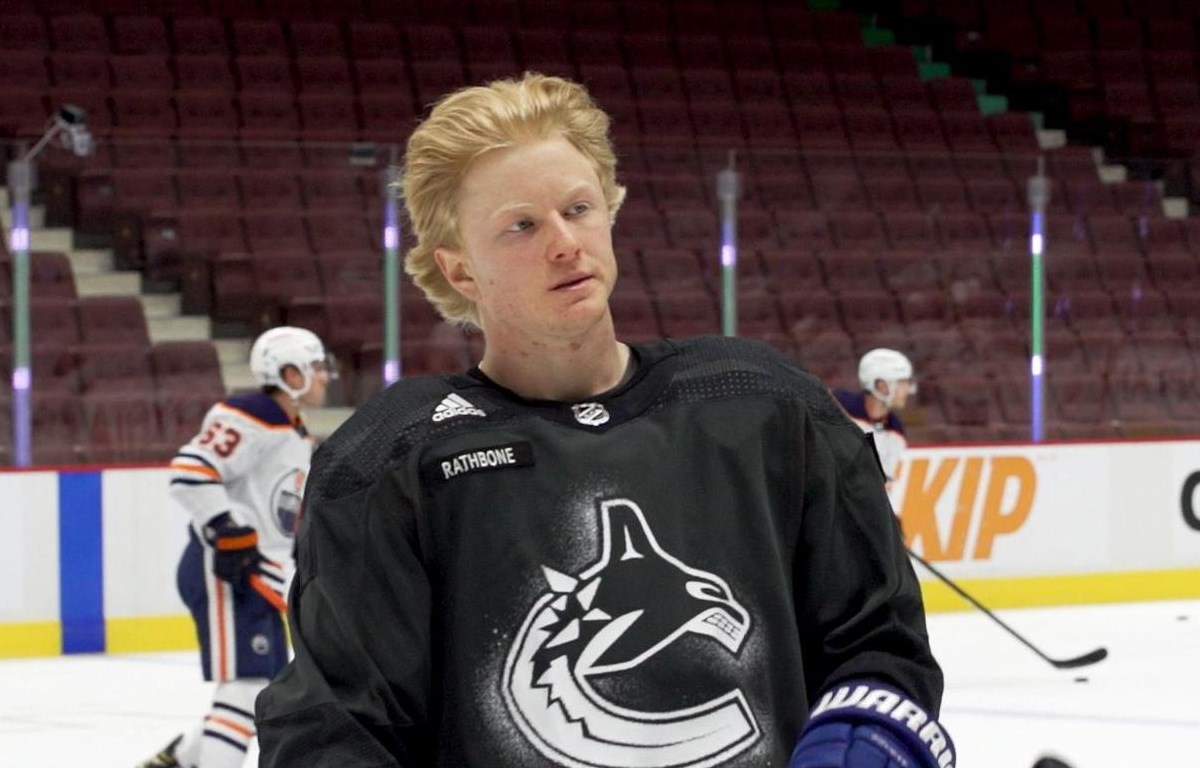 Canucks defenseman Jack Rathbone belongs to the NHL
There should be no competition for the left side in defense: Rathbone has already won.
When Jack Rathbone showed up to Massachusetts this summer after 8 NHL games for the Vancouver Canucks, Conor Garland could immediately tell that something had changed.
"I told him the first skate, I said, 'I can say you've been playing pro this year, you're so much more detailed and a lot better than where you were," Garland said. "At the end of the summer he was probably one of the best guys on the ice.
That says a lot, as the squad of players Garland and Rathbone are skating with this summer includes several established NHL players like Kevin Hayes, Ryan Donato and Alex Kerfoot, as well as top prospects like Matt Boldy and Alex Newhook, both at the top of the ranking. round choice in 2019.
"He's had such an improvement this summer," said Garland, "He's a really special player."
This has been evident so far in training camp and in the preseason. Rathbone doesn't just look like a player competing to form the Canucks' third duo in defense – it looks like he's already earned his spot.
It's not just the colon (and the shootout goal) he scored in the first game of the preseason or his impressive ability to transition with the ice or his ability to create chances in the zone. offensive. Head coach Travis Green specifically praised Rathbone for his efforts in defense, something Rathbone has focused on in recent years.
"I try to put as much effort and thought into my own zone as I do to try to create offense," Rathbone said during training camp. He knows it will be a challenge, especially given his small size. He's not tiny at all, at 5'11 " and 190 lbs, but the size and strength of NHL forwards are things he will have to learn to defend against.
Again, his experience skating this summer against NHL talent is helpful.
"We have a lot of local pros and guys of all sizes that you need to learn to contain, so you don't feel shy in the summer," said Rathbone. "I think being able to go one-on-one, two-on-two against guys like that, you're able to do readings and you learn what you can and can't get out of, especially one. guys like me. "
He's not joking about "all the different sizes". Kevin Hayes, for example, is 6'5 "and is a grip to handle in puck and net battles.
"I have to use my feet a little more and the positioning of my pole a little more than trying to engage guys like that just because it doesn't make sense to try to run over guys who are so big." Rathbone said. "So I think a lot of it depends on my skating and my ability to close the gaps and position the stick."
So far, it has shown itself in spades. He pushed back several rushes in the preseason, leaving no room for maneuver to opposing forwards and putting his stick on the pucks. Along the boards he's quick with his stick to release the puck instead of just trying to outsmart the players. And, when he makes forays into the offensive zone, he's so quick that he easily returns to the defensive each time.
Of course, one of Rathbone's toughest opponents in these summer skates is actually one of the smaller ones: Garland himself.
"Skating a guy like that in the summer doesn't really leave you … an offseason," Rathbone joked about Garland's competitive advantage which obviously doesn't turn off in the summer.
"I'm pretty competitive," Garland said with a smile. "I always joke that I will participate in anything."
The two shared this in common. Rathbone, for his calm and composed demeanor, is also a fiery competitor. Garland knows this firsthand, whether on the ice or on the golf course.
"It's a sandbag," Garland said. "He'll tell you he's worse but I haven't beaten him yet. Already."
The two bonded as friends beyond summer skates. Garland is friends with Ryan Donato, now with the Seattle Kraken. Rathbone is friends with Donato's younger brother, Jack Donato, who played with Rathbone at Dexter Southfield School and Harvard.
"The four of us hang out all the time in the summer," Garland said. " It's a good band.
But even before Garland befriended Rathbone off the ice, he knew he was destined for big things. He knew it from the first time he skated with Rathbone when the defender was only 17, calling him 'fun to watch'.
"I was with the Coyotes at the time and I said to someone, 'This guy is amazing. I'm skating with him this summer, I think he's going to be drafted this summer, I'll keep an eye on him, "Garland said. "Of course he went [fourth] round and looks like it might be a good deal.
"He's so good."