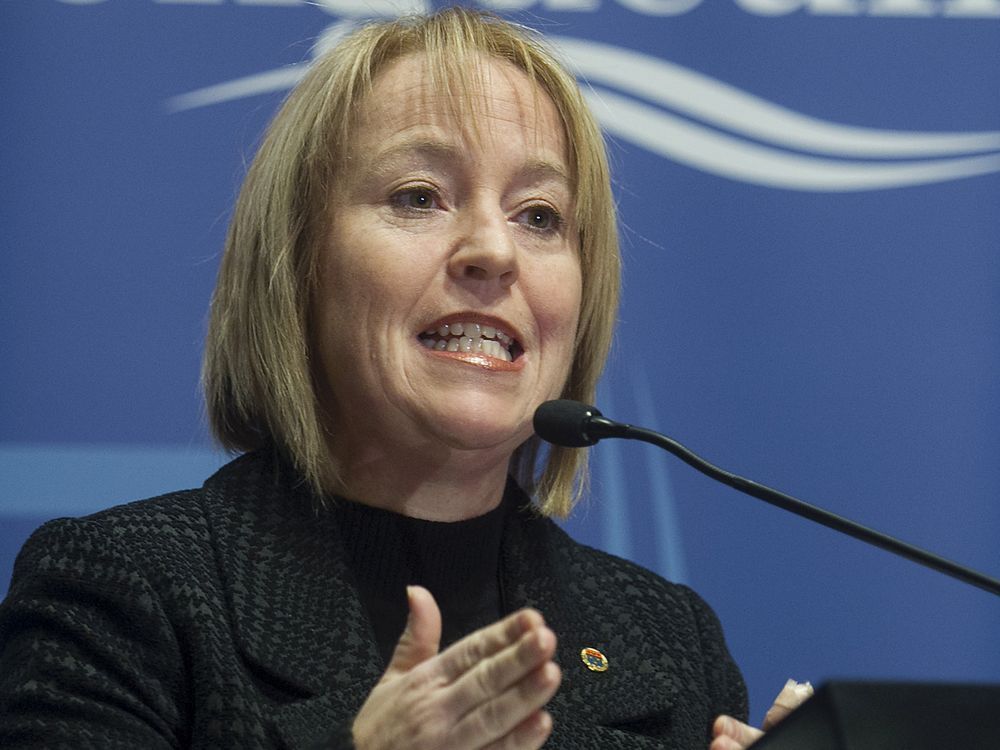 Caroline St-Hilaire announced as CAQ candidate in Sherbrooke
The former mayor of Longueuil and Bloc Québécois deputy is the second sovereignist heavyweight that François Legault has recruited to run for the CAQ this fall.
Content of the article
The Coalition Avenir Québec formalized on Sunday that the former mayor of Longueuil Caroline St-Hilaire will be its candidate in Sherbrooke in the next provincial election.
Content of the article
"I would like my experience to revitalize Sherbrooke, to benefit the people here," she said during a press conference in the riding with Premier François Legault.
One of two sovereigntist heavyweights Legault recruited to run in the fall election, St-Hilaire noted that she moved to the area four years ago.
"This is where I chose to live. I deeply love this corner of Quebec," she said.
St-Hilaire was the Bloc Québécois MP for Longueuil and Longueuil—Pierre-Boucher from 1997 to 2008 and maintained close ties with the Parti Québécois for many years. She is accompanied by former PQ minister Bernard Drainville, who will be a candidate for the CAQ in Lévis.
Drainville, who quit his job as a radio host on station 98.5 to return to politics, spearheaded the PQ's proposed charter of values ​​in 2013, which called for a total ban on religious symbols in the public sector.
Content of the article
Transport Minister François Bonnardel, cabinet member responsible for the Eastern Townships region, was also on hand to unveil the star candidate.
Sherbrooke is among the few ridings outside of Montreal that eluded the CAQ in 2018, when it won 74 of 125 seats provincially and four of five in the scenic region east of Montreal.
Christine Labrie of Québec solidaire made a breakthrough there with 34% of the vote, against 25% for the Liberals and 23% for the CAQ.
This time around, Labrie, who kicked off his campaign on Sunday, should face a tough challenge.
"In 2018, no one expected Quebec solidaire to win in Sherbrooke," she said at a rally attended by a few hundred supporters.
Content of the article
"I'm proud of everything we've accomplished in four years," she said, highlighting her record in fighting for social and community housing and securing funding for a mental health crisis center. .
Labrie called on Sherbrooke residents to grant her a second term "to continue the work and show everyone what you get from a member who is rooted in her community".
Party co-spokesman Gabriel Nadeau-Dubois said the CAQ's priority was "immigration and religious symbols", while QS focused on real needs like cost of living, l environment and housing.
Legault said he was delighted to have St-Hilaire on his list, adding that "we needed an exceptional candidate" in the riding.
"I need Caroline in Quebec," he added.
Content of the article
St-Hilaire vowed to fight for local citizens, saying his victory would give them a seat at the government decision-making table.
"Just think of the boost it would give Sherbrooke," she said.
St-Hilaire was mayor of Longueuil from 2009 to 2017. After leaving municipal politics, she became a political analyst at the LCN news channel.
From 1998 to 2012, Sherbrooke was the stronghold of former Liberal Premier Jean Charest, now a candidate for the leadership of the federal Conservatives.
Former PQ member Bernard Drainville will seek re-election with the CAQ

Former Finance Minister Carlos Leitao, Quebec's last Liberal, is not seeking re-election
The Canadian Press contributed to this report