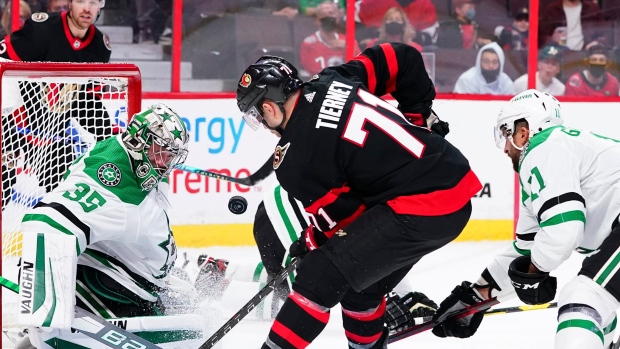 Chris Tierney Ottawa Senators beat Dallas Stars
OTTAWA – Getting off on the right foot can make all the difference, and so far the Ottawa Senators are reaping the rewards of getting a lot done right.
The Senators defeated the Dallas Stars 3-2 Sunday with two goals from Chris Tierney and a strong performance from Filip Gustavsson.
Gustavsson made 32 saves in his first regular season NHL game since May 12.
Nick Paul also scored for Ottawa (2-1-0), while Connor Brown's three assists have given him 100 career assists. Ottawa remains undefeated at home after two games (2-0-0).
Last season, the Senators got off to a terrible start with a 1-8-1 record in their first 10 games, but so far head coach DJ Smith is happy with what he's seen.
"I still have nightmares about how long it took us to get our second win," admitted Smith, who earned his 50th victory as a head coach. "Getting two wins in three games is good for us, especially for a three day break here."
Smith also confirmed that barring unforeseen circumstances, Brady Tkachuk will make his season debut Thursday against San Jose.
Michael Raffl and Joe Pavelski scored for the Stars (1-2-0).
Anton Khudobin, who blocked 24 shots, suffered his first loss in regulation to the Senators. Upon arrival, the Stars goaltender was 8-0-2 against Ottawa.
Dallas head coach Rick Bowness would have preferred a better start for his team but still believed a result was up for grabs.
"I think we deserve better than a loss," Bowness said. "We deserved a point and we didn't get it, but a few guys we need to get there went for it.
"We have guys trying to find their game, guys who are frustrated with their game and we're going to have to fight our way."
He was the first American opponent to visit the Canadian Tire Center since March 5, 2020 and it was a welcome change for the Senators, who only faced their Canadian counterparts last season due to the pandemic.
"I think it was awesome," said Connor Brown. "I enjoyed playing against a new team, something different. They play a different style of play than a lot of the teams we played against in the North (Division) last year, so that was good. It was nice how our game held up against a team you haven't seen in a while.
"And we felt good, we feel confident."
The Senators have a very different lineup from the last time the two teams met, but Dallas' Tyler Seguin says there really weren't any surprises.
"We are up against these young and fast teams and you have to watch out for them because they are doing everything they can," said Seguin. "They are all fighting for jobs. They're fresh in the league with enthusiasm so you know they're going to come and they did it (Sunday) and they did a great job.
For a second straight game at home, the Senators managed to postpone a third period rally against their opponent.
The Stars made it 3-1 as Pavelski managed to grab a loose puck from a rebound from Radek Faksa to make things interesting, but couldn't complete the comeback.
Ottawa scored two power play goals in the second period to take a 3-1 lead, but ended the period without Tim Stutzle. He came back to start the third.
Stutzle was cut off by Faksa and immediately left the rink.
"The medical staff are so good these days and they have x-rays so I knew it was negative right away," Smith said. "It was just scary that he got hit on that bone that he broke a few years ago."
Tierney's first goal deflected his chest midway through the second period, and he managed to beat Khudobin late for his third of the season.
Last season, Tierney started the year with three goals in four games, then played 29 games before scoring again.
"I'm just trying to do whatever I can to help the team win," Tierney said. "Some good rebounds. But that's what they say, is that if you go on the net you're going to have bounces, so that's good.
The two teams traded goals in the first to bring the score to 1-1.
The Stars scored on their first shot as Raffl had room in front and buried a pass from Alexander Radulov. Less than a minute later, Paul slipped a backhand under the crossbar.
Notes: Brady Tkachuk did not play Sunday, but will likely make his season debut Thursday for the Senators. … Scott Sabourin and Victor Mete were healthy scratches for Ottawa. … Stars defenseman John Klingberg missed his second straight game with a lower-body injury in the team's opener.
This report by The Canadian Press was first published on October 17, 2021.