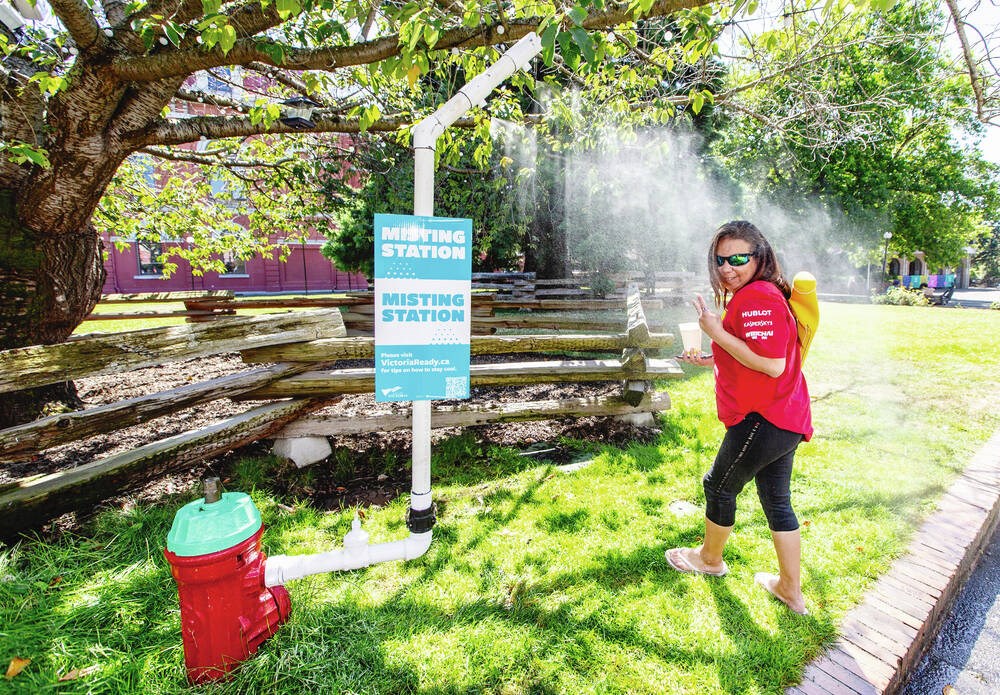 Cooling stations and other places to cool off on Vancouver Island
As temperatures on the island soar to 30C — and beyond — this week, municipalities are setting up cooling stations to help residents stay comfortable. Here's where to find them.
• Victoria — To help keep residents and visitors cool, 14 misting stations have been installed at fire hydrants across the city. They are operational during daylight hours Monday through Thursday. Fogger locations can be found on the city's website at victoria.ca.
• oak berry – Walk-in cooling centers are available at Oak Bay Rec Center, 1975 Bee St., and Monterey Rec Center, 1442 Monterey Ave. Both areas are self-managed, available during opening hours and are accessible to people with reduced mobility.
• Saanich recommends visiting one of its four recreation centers to escape the heat. Free areas include the air-conditioned libraries at Saanich Commonwealth Place (4636 Elk Lake Dr.) and GR Pearkes Rec Center (3100 Tillicum Rd.), art galleries and lobby at Cedar Hill Rec Center (3220 Cedar Hill Rd.) and the lobby of the Gordon Head Rec Center (4100 Lambrick Way). To cool off, take a seat inside the Pearkes skating rinks.
• Centre-Saanich — A chill-out location is available at the Cultural Center at the Central Saanich Library Branch, 1209 Clarke Rd. It is open 2-6 p.m. Tuesday-Thursday. Authorities are encouraging people to escape the heat, bring a snack and an activity.
• Centre-Saanich – Central Saanich Fire turns on the hoses to create a spray park Tuesday at 11 a.m. at Tanner Park on Rodolph Road and at noon at Rom Knott Park in Brentwood Bay, then again Wednesday and Thursday at Centennial Park on Wallace Drive at 11 a.m.
• sydney – The city kicked off its Monday-Friday heat response plan by opening the air-conditioned Shoal Center, at 1030 Resthaven Dr., as a cooling center. The municipality urged residents to take precautions and watch out for neighbours.
• Metchosine — Keep your cool at the chill centers and misting stations dotted around the village core. An air-conditioned space, cold water and health checks will be made available as needed. Hours of operation will be posted.
• Nanaimo — Recreational facilities including Bowen Park Complex (500 Bowen Rd.), Nanaimo Aquatic Center (741 Third St.) and Oliver Woods Community Center (6000 Oliver Rd.) offer air-conditioned halls. A misting station will be installed at Maffeo Sutton Park (Comox Road).
• Courtenay — There is a walk-in chill-out center at the Florence Filberg Center Conference Hall, 411 Anderton Ave., from 9 a.m. to 7 p.m. Lewis Park Water Park, next to the Lewis Center at 489 Old Island Highway, will be open from 9 a.m. to 8 p.m.
Do you know of any other cooling stations? Send us the details at [email protected], with "cooling" in the subject line.