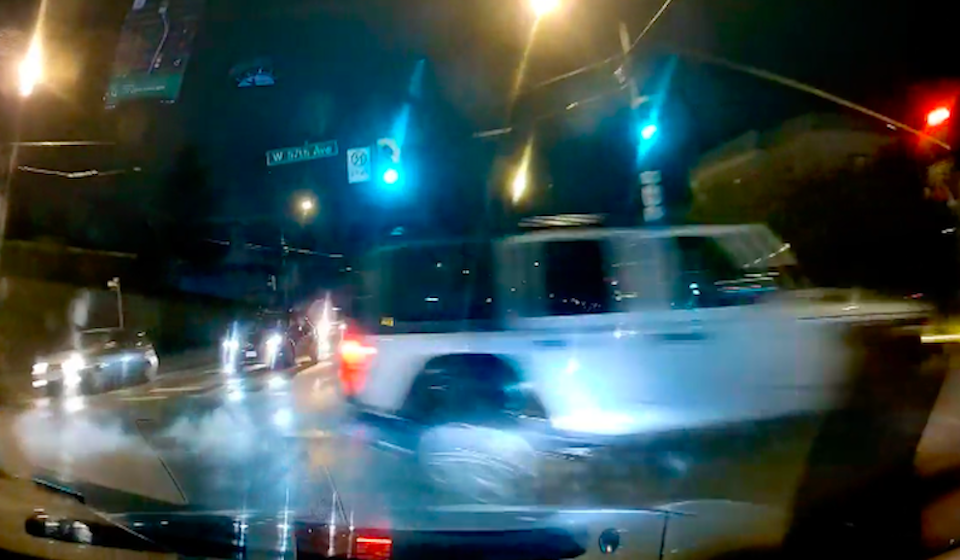 Dashcam footage shows near miss at Vancouver intersection
The driver hopes "everyone is driving safely" in the city after his own appeal.
"I almost touched that white [Jeep]. It was so close."
That's what a Vancouver man says nearly happened when a vehicle sharply veered through the intersection he was driving through on Sunday (January 30).
Dashcam footage from the man shows his car driving south on Oak St. on a dark, rainy night. As he does, a white Jeep turns sharply through the intersection and he nearly collides with it.
Sam (who prefers not to disclose his last name) said Vancouver is awesome via email that the incident took place just after 6:30 p.m. at the intersection of Oak and 57th Ave.
"At that time, there was only [three] vehicles in my view heading south," he explained. "It was very empty compared to the opposite direction," he explained.
As he followed the vehicle in front of him, Sam admits he was going over the speed limit at around 59-61 km/h, according to his GPS data.
"There was a vehicle waiting to turn left in the far left lane. I stood clear of the vehicle in front of me, and I think that's why the white Jeep thought there was no had no traffic coming and decided to turn," he said.
It's the first time Sam has seen a close call, but he hopes "everyone is driving safely."