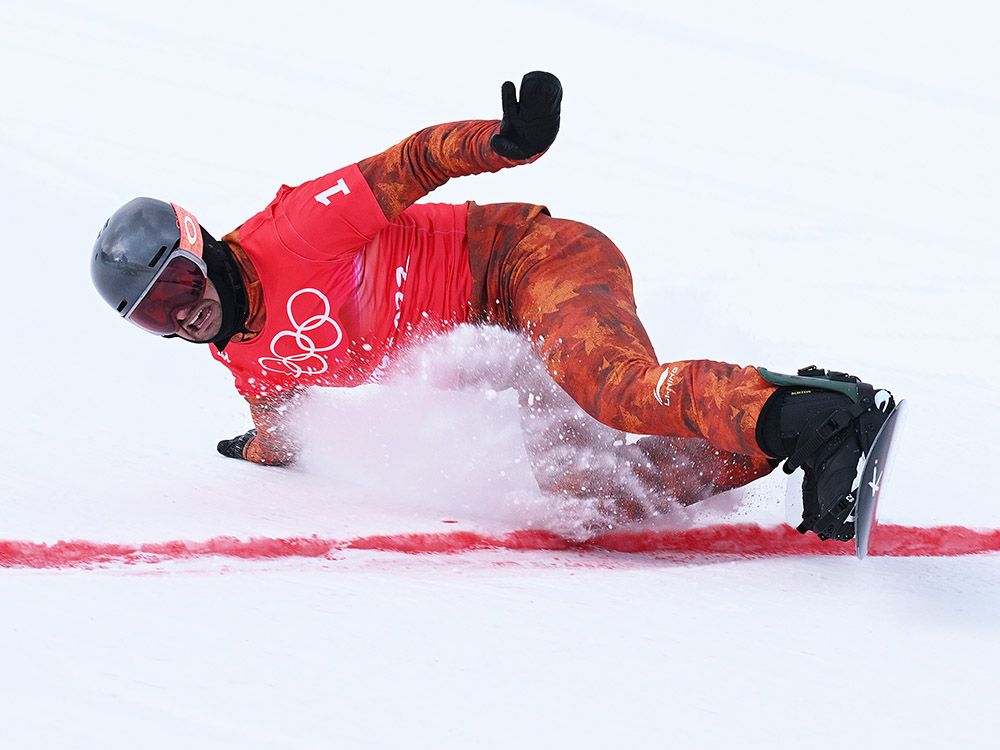 Eliot Grondin wins Olympic silver in snowboard cross for Team Canada
Canadian Eliot Grondin says he 'woke up smiling' on Thursday morning and things just kept getting better: his warm-up was good, his music too
Content of the article
ZHANGJIAKOU — Canadian Eliot Grondin says he "woke up smiling" Thursday morning, and things just kept getting better: his warm-up was good, as was his music.
Content of the article
It was a great day overall, he said, from that morning smile to the photo-finish at Genting Snow Park in China, to Olympic silver in men's snowboard cross.
"In general, everything was going in the right direction, and I kept going," said Grondin, 20, who is the youngest man to medal in this event. "Every time I walked out the door, I enjoyed it as much as I could."
Grondin, of Sainte-Marie, Que., displayed world-class speed right off the grid and used it to his advantage all day. He led wire to wire in his first three bracket races, which kept him out of trouble and unchallenged going into the final four.
Austrian Alessandro Haemmerle, Grondin's favorite when he was younger, passed the young Canadian on an inside turn midway through the decisive race, and the rest of the race was steeped in drama. Grondin threw himself across the finish line at the end, but a photo-finish showed Haemmerle winning by the end of his board.
Advertising
This ad has not loaded yet, but your article continues below.
Content of the article
Italian Omar Visintin won the bronze.
"He rides so well, especially for his age," Haemmerle, 28, said of his Canadian opponent. "He's learned a lot over the past few years, and he's going to make my life difficult in the future, I think. I can't wait for him.
This last race, Grondin said, was the most fun he had had on an already enjoyable day.
"Everyone else, I was in front and trying to control," he said. "To be challenged with Alessandro, super tight all the way…it was tight, but it was super clean. It was so much fun. I had so much fun racing with him and I'm so happy.
Grondin participated in the PyeongChang Olympics in 2018 at the age of 16. He was the youngest Canadian man there, and he used that time to learn what it takes to be a successful Olympian. He placed 36th and said Thursday that "it sure helped me."
Advertising
This ad has not loaded yet, but your article continues below.
Content of the article
Scott Stinson: Canada and the United States offer a dazzling spectacle, worthy of the Olympics

Meryeta O'Dine missed the 2018 Olympics due to a concussion. This bronze medal is special
Grondin placed third at the most recent senior world championship at age 19, making him the youngest medalist in history. He went on to win gold at the world junior championships. Those results meant he could make some noise at the Olympics, and he said on Thursday there was something unique to be gained from this venue.
"The biggest difference in my head is that the Olympics only come once every four years," he said. "The World Cup is almost every week, or every two weeks. If you don't do well on a weekend, you can have redemption. If you don't do well in the Olympics, redemption is four years from now. To be able to pull that off today is crazy.
Grondin's medal is the second for Canada in snowboard cross in the past two days. On Wednesday, Meryeta O'Dine won the women's bronze.
Grondin noted his goal "is still to win the Olympics" and that sets the stage for what should be an interesting 2026. In the meantime, he has a silver medal to admire, and he said no – he's not disappointed that it's not gold.
"No," he said simply. "Just to share the podium with these guys…to be second at 20 is crazy."