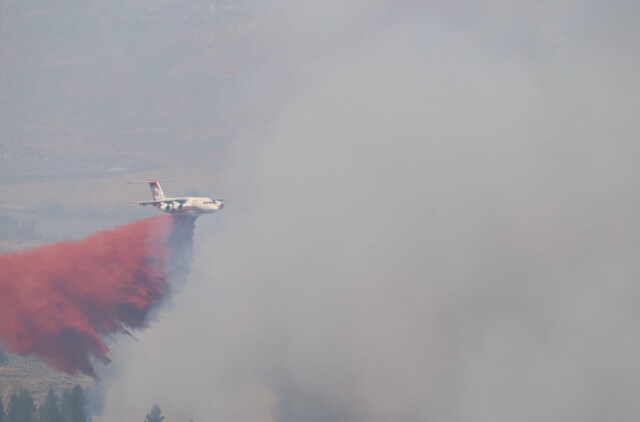 Federal government helps fight forest fires in British Columbia
Federal officials say emergency response officials and the military had already trained to respond to flooding or forest fires during the COVID-19 pandemic.
The Canadian government is preparing to deploy more than 350 troops and tactical airlift capabilities from Edmonton to support firefighters fighting more than 130 active wildfires in British Columbia.
A forward operating base will house two Chinook medium lift helicopters, one Hercules transport aircraft and three Griffin utility helicopters already at a Canadian Forces base in the capital of Alberta.
The aircraft will provide tactical airlift capability to move firefighters and equipment in and out of fires across British Columbia, while Soldiers will be ready to support ground crews as needed.
"If more is needed, we will provide additional support if necessary," Defense Minister Harjit Sajjan said.
Sajjan said emergency response officials and the military had already trained to respond to flooding or forest fires during the pandemic.
"We have said this before. This is what we are doing now, "he says.
The BC Wildfire Service says there are about 3,000 firefighters fighting fires across the province, including fires that have ravaged the town of Lytton, nearly wiping it off the map and scattering its residents.
Carla Qualtrough, Minister of Employment, Workforce Development and Disability Inclusion, said Ottawa has decided to open an E-Service Canada hotline to help people reissue lost documents and access Expedited Employment Insurance benefits.
"This week has been a very harsh reminder that while we are fighting climate change, we must also adapt to it," said Jonathan Wilkinson, Minister of Environment and Climate Change.
Environment Canada meteorologists "work around the clock" to provide dispersion forecasts and local wind and air quality forecasts. Parks Canada staff are also preparing to participate in the forest fire response, for the fourth time in the past decade, the minister said.
The federal response comes after a record heat wave crippled huge swathes of British Columbia and overwhelmed many emergency departments with temperatures well above 40 degrees Celsius.
In Vancouver, firefighters described "the busiest 48 hours we've ever recorded", with ambulance wait times reaching 11 hours in some cases. The BC Coroners Service said on Friday that the heat has likely contributed to at least 719 deaths this week.
Public Safety and Emergency Preparedness Minister Bill Blair defended the role of the federal government in mitigating the effects of the heatwave.
"There is a very close coordination between us and the BC government," says Blair.
"We know the temperatures will be high in the coming weeks."