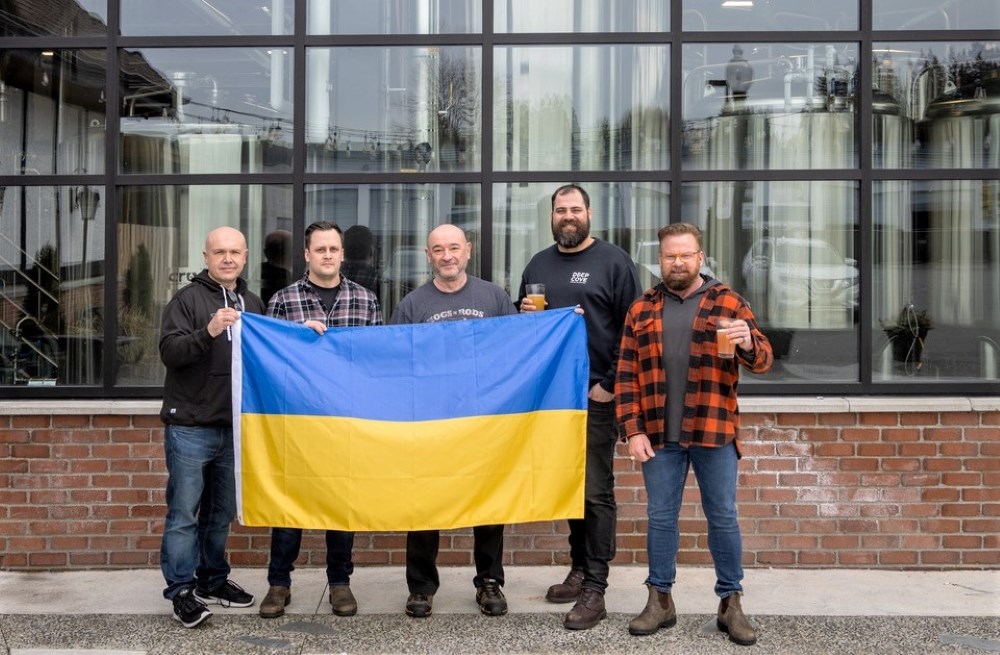 How eight Vancouver-area breweries are helping Ukrainians
As the war continues in Ukraine, brewers around the world are finding ways to help.
To do their part, Vancouver-area brewers got together in late March to brew a special beer, a Ukrainian Golden Ale. The group, organized by PoCo Brothers Brewing head brewer Rick Dellow, tackled beer with a direct connection to Ukraine.
"Rick from PoCo has been instrumental in setting up this initiative and building the team," says Nigel Pike, owner of Main St. Brewing in Vancouver, who also participated. "We are really proud of what he has done."
It's not just a style of beer the group has brewed, it's a specific recipe from a brewery in the Ukrainian city of Lviv. Pravda Beer Theater posted some of its best-known recipes online for other breweries around the world to make and encouraged them to use sales to donate.
And that's exactly what will happen with the locally brewed version. Proceeds from Metro Vancouver's beer will go to the World Central Kitchen (WCK), which supports and provides food to Ukrainians during the war.
It wasn't the easiest process, Pike notes, because the downloaded recipe had to be deciphered.
"They were having trouble finding someone to translate it because all they had was this prep sheet and half the words didn't make sense," he says. "They managed to reduce it."
He notes that the interpretations will result in a Vancouver version of the beer currently brewed around the world.
"It's like recreating a dish from another country," Pike says. "He's always going to take his own unique little style; Rick is a good brewer, he'll make them proud."
Dellow gets a lot of help along the way. Vancouver's R&B Brewing and Brassneck Brewery are joining PoCo and Main Street, whether in brewing or otherwise; Boardwalk Brewing and Tinhouse Brewing in Port Coquitlam; Deep Cove Brewers and Distillers in North Vancouver; and Five Roads Brewing Company of Langley.
"We like to do these things in collaboration with the other breweries," says Pike. "We've been able to raise a lot of money for different causes over the years; it's one thing about the brewing community, they come together well and work as a team."
Soon, the public will be able to do their part by buying pints of golden beer from the breweries' tasting rooms. Each of the participating locations orders four kegs from the PoCo brothers, the proceeds of which go towards the donation. On top of that, when beer is purchased from breweries, an additional $2 per pint will be paid.
Pike estimates they will raise $1,400 per brew, plus keg proceeds, meaning more than $11,000 will likely be donated. He notes that there are ongoing talks about a second round, but they don't know who would have room for the lot.
"We think (it will be on tap) the third week of April, depending on how things turn out," he adds.