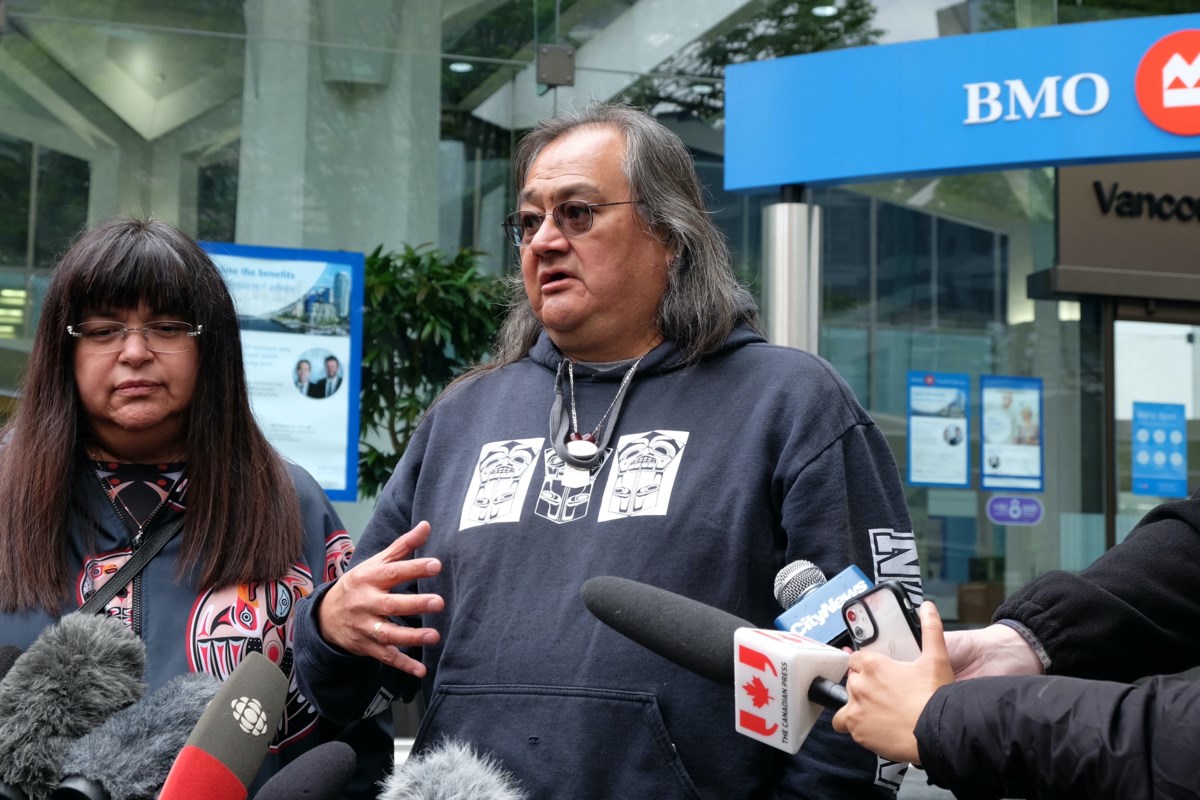 Indigenous grandfather strikes a deal during BMO arrest in Vancouver
Maxwell Johnson: 'It's been two long years of litigation with BMO, and I'm really happy that we're coming to a conclusion on this'
A Heiltsuk Nation man says he reached a settlement with Bank of Montreal after he and his then 12-year-old granddaughter were suspected of fraud and handcuffed by police in 2019 outside one of the branches from the bank in downtown Vancouver.
The settlement includes money and an apology, as well as training for BMO staff on Indigenous culture and the installation of artwork by Maxwell Johnson in the Burrard Street branch, with copies to display at other BC branches where Heiltsuk members have accounts.
"It's been two long years of litigation with BMO, and I'm really happy that we're coming to a conclusion to all of this," Johnson said Thursday, standing in a hoodie and shorts near the same spot where he was. arrested by two Vancouver police officers on December 20, 2019.
"It has been a very difficult two years not only for me, but also for my granddaughter and my son."
Handcuffed on the sidewalk
On the day of the arrest, Johnson was trying to open a joint account with his granddaughter after recently depositing $30,000 into her existing account, which he closed on Thursday before speaking to reporters.
The branch manager did not believe the couple's purpose at the bank, suspected they were trying to commit fraud, and contacted the police. Johnson and her granddaughter were taken outside by Mounties and handcuffed to a sidewalk.
A retired judge assigned to look into the high-profile case, which made national and international headlines, recently ruled that the two officers had committed misconduct by "recklessly using unnecessary force. during the couple's arrest.
"Very unfortunate situation"
BMO has since apologized for the arrest, and Vancouver Police Chief Adam Palmer has previously said officers were acting in good faith. He described it as 'a very unfortunate situation and we are so sorry for how it all turned out'.
Johnson joined Heiltsuk Chief Marilyn Slett on Thursday to announce the settlement. Her granddaughter stood on the sidewalk with other members of the Heiltsuk Nation, who drummed before the press conference.
"Today is an important step for them to be able to wrap up what has been a very difficult journey for them," Slett told reporters.
"Although they have reached a settlement, the healing will certainly continue with the community. [in Bella Bella] and with Max and his family.
Johnson artwork in the bank
Settlement details:
• A monetary payment from BMO to Johnson and his granddaughter.
• A private apology ceremony in Johnson's home community of Bella Bella.
• The bank's branch on Burrard Street and others in Nanaimo, Campbell River, Prince Rupert and Victoria—where other Heiltsuk members have accounts—will feature artwork by Johnson.
• BMO will install territorial recognition plaques in the same branches and will seek to add more in all branches across Canada.
• BMO updated its internal policies and procedures on how Aboriginal status cards are processed and created a bank-wide course on Aboriginal culture for staff; more than 25,000 employees have taken the course.
• The settlement also includes cultural competency training for BMO's senior leaders in British Columbia and the Yukon, the creation of an Indigenous advisory council, and various donations and campaigns to support Indigenous communities.
Pending VPD Complaint
The settlement ends legal proceedings brought by Johnson and his granddaughter against BMO, but a complaint filed against the Vancouver Police Department in the British Columbia Human Rights Tribunal remains pending.
"Going forward with the VPD, I also hope for a good outcome, and that they learn about First Nations issues and undergo sensitivity training on our First Nations people," Johnson said. "That's all I want to see."
He said the past two years had been difficult for him, noting that he lived with panic disorder, which made it difficult to speak publicly about the arrest.
"As a spokesperson, I didn't want it, but it happened," he said. "So I'm just happy to be able to stand up for myself, my kids, my grandkids and other people who are afraid to come forward to defend their position."
@Howellings