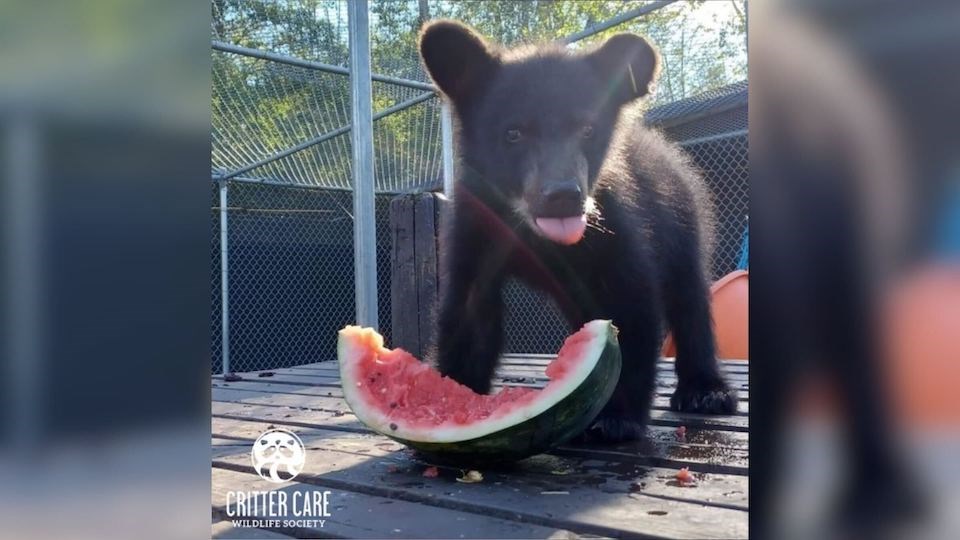 Metro Vancouver Bears: Cub loves snacking on watermelon
The little bruin is in a Metro Vancouver facility and needs a new name.
Watermelon is considered the quintessential summer fruit – and humans aren't the only mammals that enjoy munching on this refreshing treat.
An orphaned black bear cub who was rescued from the Sunshine Coast earlier this year prefers the juicy red fruit over all others, according to Critter Care Wildlife Society.
This little boy was discovered wandering alone on the side of a road and the rescuers do not know what happened to his mother.
The bright-eyed bruin is described as "full of energy" and "quite vocal". And, on hot summer days, he likes to snack on frozen watermelon.
Critter Care Wildlife Society Wildlife Assistant Faith Zdebiak says Vancouver is great that the rescue organization does not know exactly how old the little bear is but that he was born during the winter when the mother bears go into torpor, which is different from hibernation.
According to Encyclopedia Britannica.
This year, according to Zdebiak, the torpor period lasted roughly between November and March (it varies slightly from year to year).
Now the young black bear resides at the Langley facility where he enjoys an array of sweet treats, from his beloved watermelon to sweet grapes to papaya and more.
The grapes are actually a fan favorite among most of the bears and raccoons at the facility, Zdebiak noted. As the bears get older, they will feast on more fish and berries to prepare them for a return to the wild.
Critter Care is currently holding a naming contest for the little black bear. The winner will receive a certificate and a teddy bear keychain.
Currently, the organization is home to six bear cubs, as well as many other wildlife. it is one of only three bear rehabilitation facilities in the province.
Zdebiak adds that "the surest way to protect wildlife is not to feed wildlife. When you feed them, they know they are coming back."
Critter Care is not funded by the government and depends on donations from the public and volunteers.