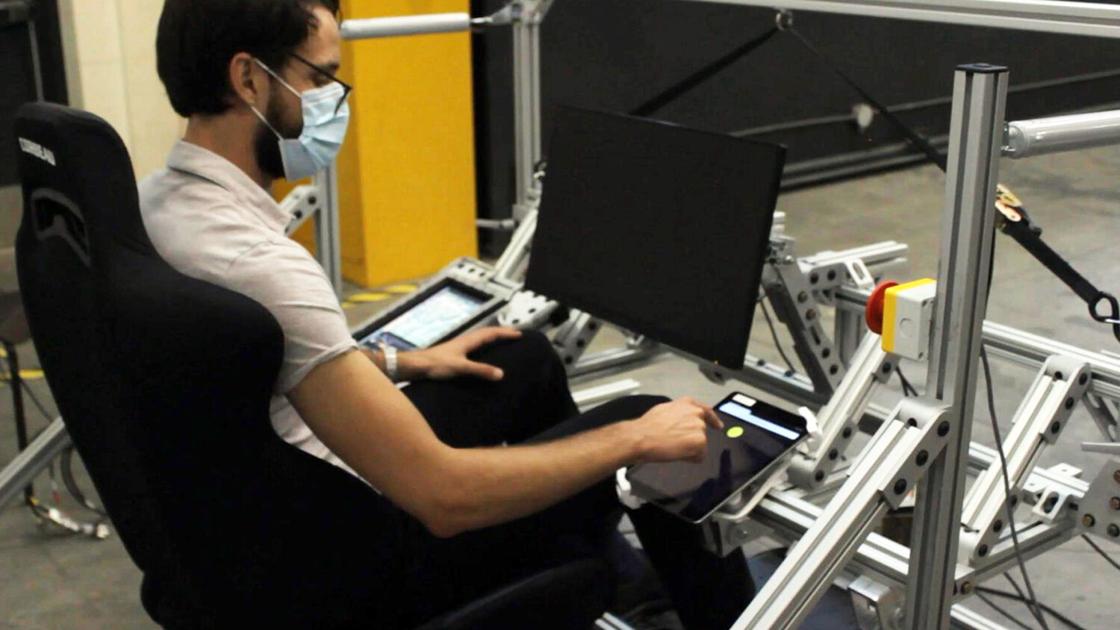 Montreal, international researchers design the cockpit of the planes of the future | Education
Border closures and restrictions on international travel aren't preventing some of the world's best talent from collaborating with Canadian researchers this summer. Using video calls and other cutting-edge technology tools, more than 1,000 students from 12 countries are working on cutting-edge research at 54 Canadian universities through a unique internship program called Mitacs Globalink.
One of these rising young stars is a French engineering researcher who is helping a Polytechnique Montreal lab design the cockpit of the future, creating a single cockpit touchscreen that's easier and safer to use for airplane pilots, all from the comfort of his home near Paris, France.
Arthur Camille Bevier, 23, master's student at Paris-Seine University, works remotely from home under the supervision of assistant professor Philippe Doyon-Poulin at Polytechnique Montréal. Combining his personal experience as a recreational pilot with his specialization in aeronautical and computer engineering, Bevier strives to understand the issues pilots face when attempting to enter flight information and other critical data. on a touch screen during flight, and find with a design better suited to aviation.
"Manufacturers want to bring the efficiency of touchscreens to the cockpit, but as soon as they start doing it, they run into issues with turbulence and vibration, as well as user discomfort," explained Doyon- Poulin, noting that anyone who has tried texting a friend as a passenger in a car or on a bus will understand firsthand how difficult it can be to use a touchscreen when your hand is shaking. "Drivers have the added complication of trying to do it with their arms fully extended and nowhere to rest their wrists, and they can't afford to make mistakes," he added.
Working in collaboration with industrial partner CMC Électronique de Montréal, Bevier's research builds on a project initiated by former Mitacs intern Adam Schachner, who successfully designed a test area in the university's laboratory. which uses an immersive 4D seat to mimic the vibration of an airplane. After consulting CMC Electronics engineers to better understand the constraints pilots face when using touch screens, Bevier analyzed more than 75,000 data points collected by Schachner from 23 participants who were invited to perform various touch screen tasks under specific vibration conditions while seated in the specially designed lab test area.
Based on the results, Bevier worked with Schachner to successfully develop three touchscreen prototypes to enable easier and more precise text entry by pilots: one based on the classic QWERTY keyboard interface, one based on a an arc keyboard that makes it easy to enter information using a thumb, and one that uses a tactile pattern to move a cursor to select characters from a list. One of the challenges is that pilots often enter information that is not standard, such as GPS waypoints, which means the touchscreen cannot take advantage of advanced features such as autocomplete. .
"My goal was to think like a pilot and in doing so, to find a keyboard layout and user interface more suitable for use in flight," Bevier said, adding that the keyboard cannot take up a lot of space on the screen. , should be easy to access and should be designed to mitigate the risk of making a poor selection. "Right now, my focus is on entering text so that when a pilot needs to change course or altitude, adjust radio, or change route, they can be sure they're making the right choice. "
Early research from the team indicates that the overall error rate for cockpit touchscreens is 13% on average, but can reach 20% as vibrations from turbulence worsen and up to 40% at as buttons or widgets on the screen become smaller. Their next step is to test the three prototypes designed by Bevier in the lab to compare the results and determine which one is more stable for use in flight. Once published, they will transmit their findings to CMC Electronics to improve future avionics designs.
Bevier is one of 1,075 students – from Brazil, China, France, Germany, Hong Kong, India, Mexico, Taiwan, Tunisia, Ukraine, UK and USA – participating in the Mitacs Globalink research internship program this summer to help solve complex problems in a variety of industry sectors, from healthcare and wellness to robotics, technology and the environment. Designed to foster international research links and boost Canada's economy, the 12-week internship normally involves a trip to Canada to work alongside Canadian researchers, but due to the COVID-19 pandemic, the program for this summer takes place remotely.
For Bevier, the international internship is a unique opportunity to combine his passion for aviation with his education. And although he missed a summer in Canada, he looks forward to meeting his virtual team in person in September when he travels to Montreal to complete his Masters, and also plans to pursue his PhD under Doyon-Poulin. . from fall 2022.
"When I discovered this research subject, I immediately knew that I wanted to work with Professor Doyon-Poulin and learn as much as possible about advanced cockpit screens and cockpit design," said declared Bevier. "I am working independently in France at the moment, but thanks to our regular Zoom meetings, I still feel like part of the team," he added.
Doyon-Poulin sees Mitacs Globalink as an opportunity to tap into the expertise of international students who often approach problem solving with a different mindset. "I am very, very proud to have Arthur on my team," he said. "He has the understanding, skills and interest to advance this research and I couldn't find a better candidate for this position.
Since 2009, Mitacs has supported more than 5,000 international research collaborations through its Globalink research internships. To further strengthen international research collaborations, Mitacs Globalink now offers two-way mobility opportunities between Canada and 13 international partner countries for undergraduate and graduate students. The program promotes Canada as a premier destination for research opportunities and showcases Canadian research expertise around the world.
"Canada now ranks third in the world for attracting international students, with an impressive 642,000 students here holding study permits last year alone, and Mitacs is proud to play a key role in continuing to accelerate these efforts, even in the face of a global pandemic. Mitacs CEO and Scientific Director John Hepburn said, noting that Canada's number of international students has tripled over the past decade and is now six times higher than at the turn of the millennium. "Mitacs Globalink not only helps advance innovation across industry sectors through global research collaborations, but it also drives our economy and helps attract some of the world's best students to our universities for graduate degrees.
Mitacs is a not-for-profit organization that fosters growth and innovation in Canada by solving business challenges through academic research solutions. It is funded by the Government of Canada and the Government of Quebec, as well as the Government of Alberta, Government of British Columbia, Government of New Brunswick, Government of Newfoundland and Labrador, Government of Nova Scotia, Government of Ontario, Innovation PEI, Research Manitoba, Government of Saskatchewan and Government of Yukon.
– Mitacs
– A B