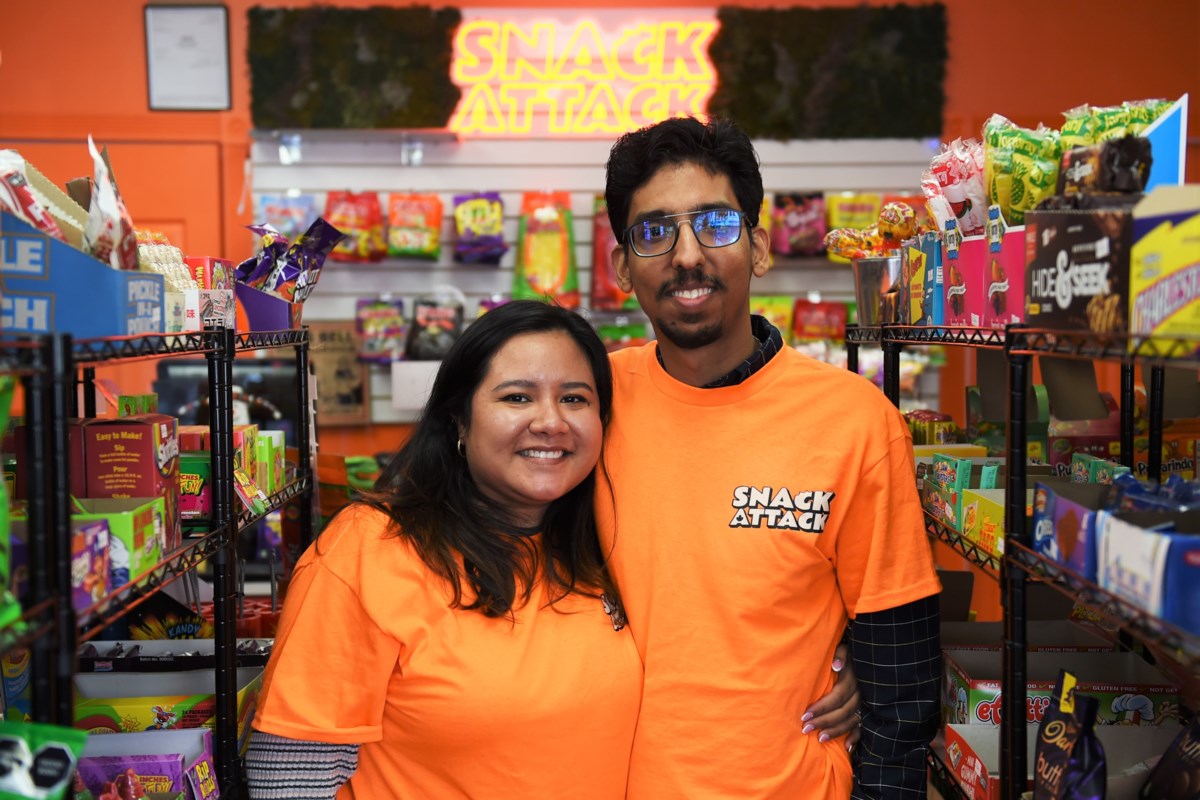 New store opens in Vancouver with nostalgic foreign snacks
They focus on nostalgic snacks from other countries.
For Samantha Paredes and Rish Dhall, snacking takes them back to where they grew up.
The couple did not always live here; Paredes moved from Mexico in 2006 and Dhall from India in 2016. The fact that they have spent much of their lives elsewhere is the basis for Snack Attack, the store they opened in March.
Nostalgic snacks
"Most of our products are nostalgic, aren't they? So it takes you back in time. Those are the hidden gems," says Dhall.
"Vancouver is a city full of immigrants," adds Parades. "We wanted to make sure you know, maybe you miss home a little bit, don't you. So here, like you can catch it (the snacks)."
"So the only thing we can do is give them snacks, which they actually grew up on," Dhall notes.
While some are name brands from other countries, others are local versions of what you might find in a convenience store. In particular, they highlight one type of Skittles they have, which are covered in spices.
"It's something I would have (in Mexico)," Parades says. "Why don't I make it available for people to experience? »
Along the way, they also discovered that there were similarities between snacks from their childhood, including some chili-lime chips from India, which fit into Mexican snacks.
They also have nostalgic snacks from various foreign locations. They have items from the UK, Germany, Turkey, China, Korea and more. Irish articles are expected soon and they are working on getting articles from the Philippines, UAE and Hawaii.
Local stuff too
The shop also has a few local items, including replica Barge Chilling Beach signs and custom rolling papers that can have all kinds of Vancouver icons printed on them.
@thesnackattack.ca 🤤 Life happens, snacks help! #eastvancouver #eastvan #exoticsnacks #snackbreak #importedsnacks #fypシ #fypシ゚viral ♬ Countdown – Official Sound Studio
To make things progress
The couple, who have been together for around four years now after starting out as hiking partners, are married and both worked full time, but recently decided to combine their experiences and start their own business. Dhall brought experience as a web developer, as well as branding and some retail experience, while Paredes had customer service and his family ran a business.
They wanted to keep working, but Dhall had to quit his job to focus on the shop. Fortunately, they were able to find mentors through social media to help guide the process. While paperwork slowed things down and finding premises was difficult, they persevered and went fast when they could.
"It's been really, especially for me, really rewarding to see where we started," Parades said. "And see how it all fell into place so quickly, and where we are now, right?"
This includes a quick turnaround for the space they are in, at 1022 Kingsway. They took over the location on March 1 and had their first day of business on March 25 (partly thanks to friends who came to help assemble shelves). A month later, on April 20, they had their grand opening.
And the response has been positive, with locals already becoming regular customers.
"We really liked the neighborhood. And we've already made a lot of friends with businesses and partnerships," Paredes said.
More soon
With the shop still in its infancy, the pair are still working on plans they haven't had time to implement. This includes a subscription snack box that they want to send monthly with mystery snacks. The same box will also be available at the store.
They also bought an e-scooter so they could make free deliveries to the store. Further, Dhall is working on a range of unique t-shirts.
However, the thing the two seem excited for in the future is to replicate the shop elsewhere. Dhall has put time and effort into perfecting the Snack Attack brand and thanks to their look, the couple say they have already been approached by people who assume the store is a franchise and want to come in. But the couple take a minute before launching more Snack Attacks.
"I have to wait because I haven't even created the franchisee business model yet," Dhall says.
Snack Attack is located in Unit 3 at 1022 Kingsway. On weekdays, it is open from 10:00 a.m. to 8:30 p.m. On Saturdays it only opens at 11:00 am and on Sundays it is open from 11:00 am to 7:00 pm.