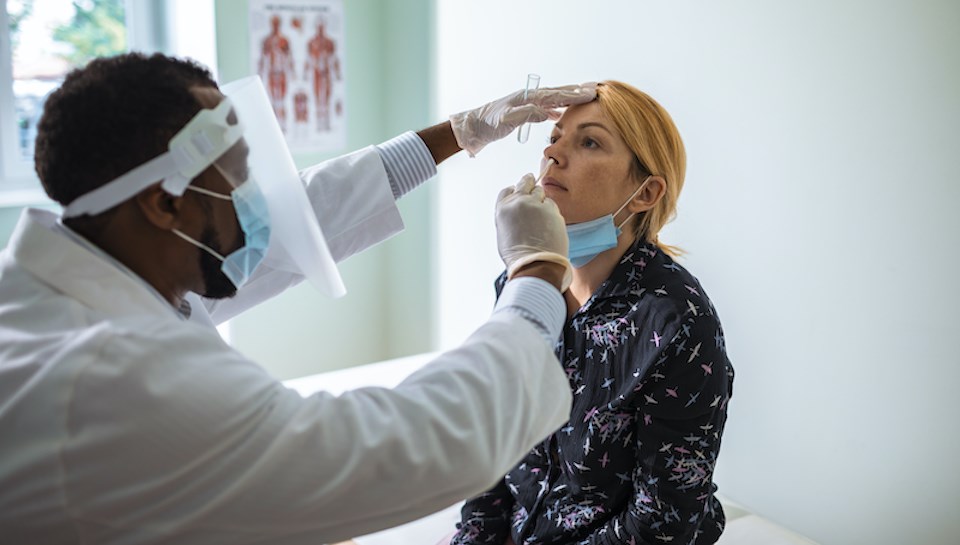 Omicron Symptoms: What are the symptoms of COVID-19?
More and more people are reporting different symptoms of the virus.
If you've wondered whether or not you've had the coronavirus this year, you're far from alone.
Although fewer people are going to clinics to get tested for COVID-19, many people are calling HealthLink BC to find out whether or not they have symptoms of the virus. And with the widespread availability of rapid tests, British Columbians can test themselves from the comfort of their homes.
The number of COVID-19 patients in British Columbia hospitals has risen by 46 over the past week, to 596 today – the highest number since February 25, when there were 599 of these patients.
But most people who test positive for the virus won't end up in hospital – and some may even have decidedly mild symptoms.
COVID-19 Symptoms: What Should You Look For?
Dr. Brian Conway is Medical Director of the Vancouver Infectious Diseases Center (VIDC) and Assistant Professor in the Department of Pharmacology and Therapeutics at the University of British Columbia. He said Vancouver is awesome during a telephone interview that people should continue to monitor for respiratory symptoms of COVID-19.
"It remains a respiratory disease: cough, shortness of breath … and its viral components, headaches, muscle aches, things like that. It stays there," he explained.
The doctor noted, however, that those vaccinated may experience "fairly mild" symptoms, such as a scratchy throat, mild cough and sneezing.
"So I think what we should do is if you have symptoms at any time, given that the rapid tests that are abundantly available now, is to test."
Omicron symptoms: are there any changes in what to look for?
Early in the pandemic, public health informed British Columbians that a loss of taste and/or smell was a common symptom of the virus. Now, far fewer people are reporting this symptom.
Instead, more and more people are reporting gastrointestinal symptoms, such as upset stomach and nausea, Conway explained.
"So I would recommend anyone who is nauseous to go get a COVID test," he said, noting that many people who test positive are feeling fine other than an upset stomach.
But Conway can't say for sure if Omicron's symptoms are different or look different because such a high percentage of the population is vaccinated. Additionally, there are multiple variants of the Omicron strain circulating in the population.
Coronavirus rapid tests
With the widespread availability of rapid tests in British Columbia, people should test themselves if they think they have symptoms of the virus.
But anyone at higher risk of becoming seriously ill should seek immediate medical attention, Conway stressed.
"So if you're over 60, have a few other illnesses…or if you're diabetic, then I would ask for attention because there's a treatment called Paxlovid," he said. "So if you take it twice a day for five days, it will significantly reduce the hospitalization rate.
"But it has to be taken within the first five days of an illness. So there's a bit of a rush."
For people who are not at high risk for serious illness and who have mild symptoms, a positive rapid test result is a "red flag." On the other hand, a negative result does not necessarily indicate that you are free of COVID-19 – the test may have been taken too soon or may give a false negative.
If you have questions about your symptoms, contact your healthcare provider or call 811. You can also use the BC Center for Disease Control (BCCDC) self-assessment tool.
Find out more information about whether you should get tested for COVID-19 with the BCCDC online.
With files from Glen Korstrom