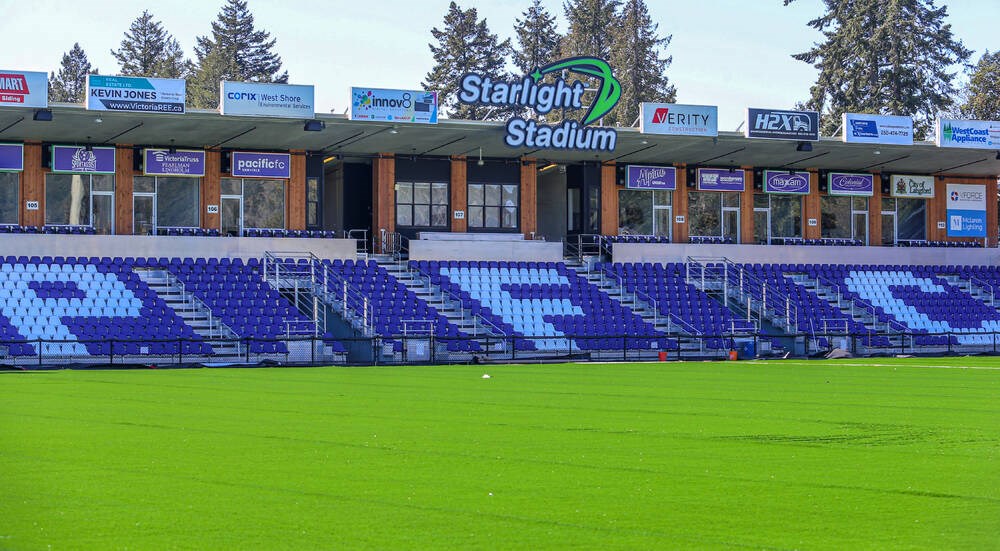 Pacific FC selects Ricci from Montreal and Goertzen from UVic in CPL Draft U Sports
Pacific FC believe central midfielder Luca Ricci, of the U Sports champion of the University of Montreal Carbines, can have an immediate impact due to his pedigree as a CF Montreal MLS Academy product with experience professional gaming
Pacific FC believe central midfielder Luca Ricci of the University of Montreal Carbines, U Sports champion, can have an immediate impact because of his pedigree as a CF Montreal MLS Academy product with a professional gaming experience already with USL's Phoenix Rising.
The last-selected defending Canadian Premier League champions Tridents picked the 23-year-old from LaSalle, Que., with the eighth and final pick in the first round of the CPL-U Sports Draft made Thursday night.
"Luca has great experience and has been in a professional environment and that's very interesting for us," said PFC technical director and assistant coach James Merriman.
Cape Breton University's José Cunha went first overall at Atlético Ottawa, followed by fellow Caper Kairo Coore, second at FC Edmonton. Halifax HFX Wanderers took Christopher Campoli of Ontario Tech University third overall, Valor FC of Winnipeg selected Raine Lyn of Cape Breton fourth, York United selected Christian Rossi of Trinity Western fifth, Cavalry FC selected Caden Rogozinski of Mount Royal University sixth and Forge FC of Hamilton took down Guillaume Pianelli of the University of Quebec at Trois-Rivières in seventh place.
Pacific FC picked Mount Douglas Rams graduate Rees Goertzen, a third-year defenseman with the University of Victoria Vikes, in the second round at 16th overall. The six-foot-two defenseman is a former member of the Vancouver Whitecaps and Vancouver Island Wave residency program.
"Rees' athleticism and versatility make him a brilliant prospect," Merriman said.
Goertzen can't wait to get his first taste of the pros.
"My dream is to play professional football, so there was a flood of emotions during the draft," said UVic psychology student Goertzen. "I believe I am an athletic centre-back with speed, vertical play and a technical ability to play the ball from the back, combined with a huge desire to win."
Ricci, Goertzen and the other 14 rookies will be invited to their respective teams' CPL pre-season training camps. They are eligible to sign U Sports development contracts for the upcoming season. These contracts allow student-athletes still eligible for U Sports to sign with a CPL professional team while renewing their eligibility for U Sports.
CORNERS: The PFC have announced that Canada-selected captain and midfielder Jamar Dixon, starting goalkeeper Callum Irving and Canadian U-23 defender Thomas Meilleur will return this season. "Those are three big leaders in our dressing room," Merriman said. … Irish midfielder Ollie Bassett, substitute goalkeeper Isaac Boehmer and substitute defenders Robert Boskovic and Duran Lee leave. It was announced earlier that top scorer Terran Campbell and CPL's top U21 midfielder Alessandro Hojabrpour have signed with rivals Forge FC.