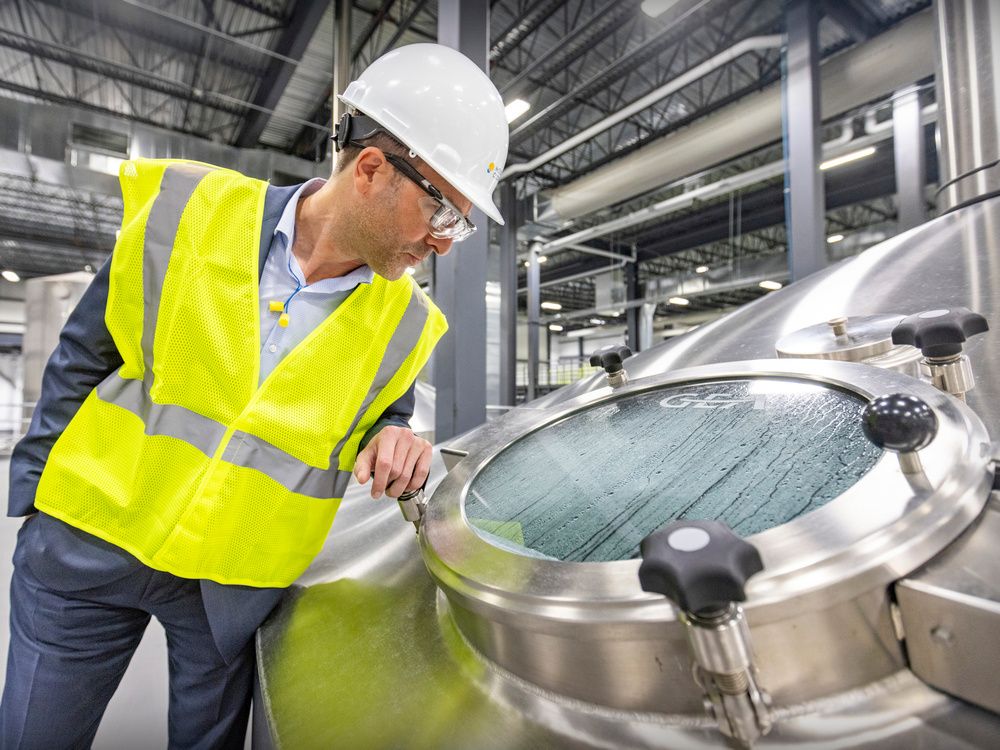 Price hikes brewing for Canadian beer, says Molson Coors executive
"Inflation is a reality, and we must adjust our prices to this reality."
Content of the article
Beer lovers should prepare for price increases in the coming months as costs such as shipping continue to climb, said the general manager of Molson Coors Canada.
Content of the article
"The only thing you have to do is look at the outside environment, and you know we have no choice but to raise beer prices," President Frédéric Landtmeters said in an interview with the company's new brewery in Longueuil.
Content of the article
"Inflation is a reality and we must adjust our prices to this reality. But I'm not going to comment on future plans. We are not ready to announce it yet.
Molson Coors said in August that it expects "inflationary pressures" in areas such as inputs and transportation costs to weigh on profit margins in the second half of 2022. As a result, CEO Gavin Hattersley said told analysts the company would raise U.S. prices on average. 3 to 5% in the fourth quarter, depending on the region. He did not discuss pricing plans for the Canadian market.
Content of the article
About 80% of the company's revenue — and more than 90% of pre-tax revenue — comes from the Americas.
Canada's annual inflation rate slowed to 7% in August thanks to lower gasoline prices and slowing housing costs, Statistics Canada said Sept. 20. However, prices for food purchased from stores rose 10.8%, more than triple the 3.5% increase recorded for alcoholic beverages, tobacco and recreational cannabis.
"So far, beer has been a relatively small category if you compare it to other food and beverage categories," Landtmeters said. "It is fair to say that we have scenarios for various inflationary developments. We look at the forecasts of the major banks. We must be prepared for all possibilities. We have to make sure our prices are the right ones.
Content of the article
Landtmeters spoke after taking part in a media tour of the new Longueuil facility, which took over from the company's historic Notre-Dame St. E. brewery after the 235-year-old production site closed at the end of 2021.
Construction of the one million square foot plant in Longueuil took about three years and cost about $525 million. Molson Coors now occupies approximately 6 million square feet of real estate on the South Shore, across from St-Hubert Airport.
With its 36 stainless steel fermentation tanks, Longueuil has a maximum capacity of 2.3 million hectoliters, compared to the 3.8 million that the Notre-Dame Street brewery could produce. The smaller capacity "is better aligned with our market," said general manager Tim Crease.
Content of the article
Traditional beers such as Molson Export, Molson Canadian and Coors Light are brewed on site in bottles, cans and kegs, as are newer additions such as Belgian Moon. The Longueuil brewery uses about 40% less water and energy than its predecessor, said Valérie Fraser, head of brewing at the new plant.
Including executives and production employees, approximately 420 people work at the Longueuil site in activities such as production and distribution, says Molson Coors.
Production in Longueuil was disrupted by an 11-week strike by unionized employees that ended in June with the ratification of a new five-year collective agreement. Molson Coors does not expect to reach normal brewery shipping levels until the fourth quarter, Hattersley said in August.
Content of the article
"We are continuing to grow. It takes time to reach maximum capacity, effectiveness and efficiency," Landtmeters said. "The strike was obviously something we hadn't anticipated. This is a page that I would really like to turn and that I look forward to.
And while the Teamsters Canada union says the new deal has resulted in average wage increases of at least 17% over five years, Landtmeters insists the added labor costs won't hurt the competitiveness of the site.
"Our goal has always been to find a way to shake hands on a deal that was good for the brewery workers and viable for the business. I think it's fair to say we got there," he said. "We believe we can be competitive in the future, based on the agreement we have with the workers here."
How Molson Coors is finding its way back as a 'beverage' company

Molson Coors bets $100 million on seltzer water to grow beyond beer in Canada