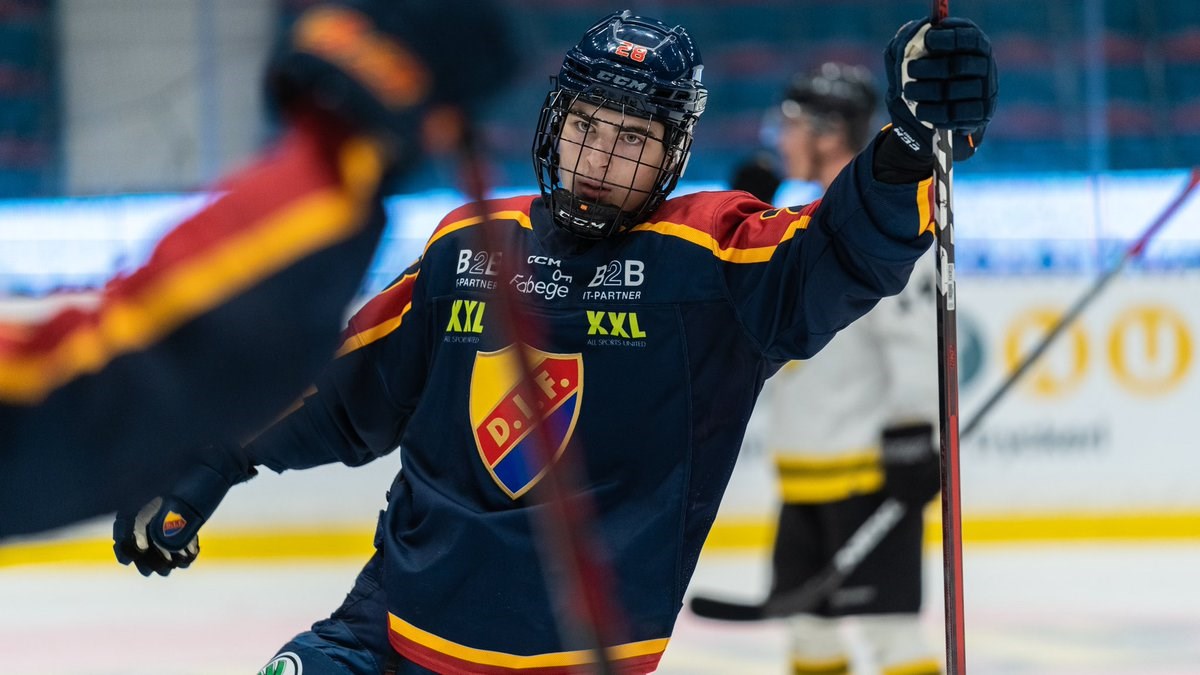 Should the Canucks sign Liam Öhgren?
With his versatile offensive game, Liam Öhgren could be the Canucks' best option at No. 15.
It's not easy to score goals in the NHL.
Sure, some players make it look easy, but even elite scorers can struggle. Just look at the struggles of Elias Pettersson at the start of the season or Brock Boeser who failed to score 30 goals when he seemed like a lock to becoming an eternal 30-goal player after his rookie year.
Last season, despite three players breaking the 30-goal mark, the Vancouver Canucks finished 18th in the NHL in goals. With the NHL seemingly heading for a more scorer-friendly era, the Canucks could really use more players who can put the puck in the back of the net.
Perhaps that should influence how the Canucks approach the 2022 NHL Draft. With the 15th overall pick, perhaps the Canucks should consider Liam Öhgren.
Liam Ohgren – Left winger
6'1″ – 201 lbs – Jan 28, 2004 (18)
Stockholm, SW
Djurgårdens IF J20, J20 Nationell (30-33-25-58)
Liam Öhgren is usually ranked in the back half of the first round by public draft rankings, with a few outliers. The Puck Authority has Öhgren all the way down at 41st, while Elite Prospects has him highest at 12th.
In his draft year, Liam Öhgren did nothing but tear the Swedish junior league to shreds.
Öhgren led the J20 Nationell in goals with 33, as well as points per game. In fact, Öhgren's 1.93 points per game is the best ever recorded by a player in his draft year in the J20 Nationell. Some of the players he overproduced in their draft years include Anze Kopitar, William Karlsson and Elias Lindholm.
No one – not even players who have appeared in more games – has scored more than Öhgren's 33 Nationell goals in their draft year. Öhgren scored those 33 goals in just 30 games.
Öhgren also wasn't dependent on the power play to rack up goals, with 28 of his 33 even-strength goals.
There is a caveat to Öhgren's dominance in the Nationell. He was playing in line with two other first-round talents: Jonathan Lekkerimaki at right wing and Noah Ostlund at center. Öhgren outscored them both in the Nationell but Lekkerimaki was more productive in the SHL and Lekkerimaki and Ostlund scored more in the under-18s, although Öhgren was playing injured at the time.
The three obviously all benefited from playing with each other, but how do you separate their performances and assess them as individuals? Has Öhgren benefited from playing with two elite talents or is he an elite talent on his own merits?
"He's one of the best pure shooters in the class."
The consensus of the scouting world is that Öhgren is an elite talent.
"All 32 NHL teams would love to have players like Liam Öhgren," said Will Scouching, who ranks Öhgren ahead of his two linemates. "He has the problem-solving skills and the adaptability to make things work at high levels."
Öhgren has a terrific shot with an absurdly quick exit. The puck seems to spring from his stick at all times. He uses that shot in a multitude of ways – shooting the puck seemingly from any point in his stride, sliding the puck inside to change the angle of the shot, using defenders as a screen – Öhgren can do it all. do, and he does it all to the beat.
"For my money, he's one of the best pure shooters in the class," says Cam Robinson of Elite Prospect. "Maybe even the best."
Beyond his excellent shooting, Öhgren also has a knack for finding weak spots on the ice for his teammates to find and he's adept at timing the puck or chaining passes and stripping goaltenders in front of the net.
"Everything happens in motion for Öhgren. He moves as the pucks get to his position, skates through his passes and doesn't need to slow his stride to get his shot," reads his Elite Prospects scouting report. "He's playing at such an accelerated pace that the puck often flies off his stick as soon as you realize he even got possession in the first place."
His variety of goalscoring abilities and combination of skills has allowed Öhgren to victimize goalkeepers in national and international competition, where he captained Sweden to gold at the World Under-18 Championship. and bronze at the Hlinka Gretzky Cup.
Öhgren has 3 goals and 9 points in 6 games at the World Under-18 and 4 goals and 7 points in 5 games at the Hlinka Gretzky Cup. He wasn't content to feast on lesser competition either – at the Under-18 level, Öhgren scored two goals and added an assist in Sweden's 6-4 victory in the final against Team USA.
"The definition of a dual threat offensive weapon."
What sets Öhgren apart from some of the other goalscoring talents in this draft class is that he is not a one-dimensional threat.
"He has a shoot-first mentality, but he can also make plays," a scout told The Hockey News.
Öhgren uses the threat of his shot to aid his play, tricking defenders and goalkeepers into thinking he is shooting, then throwing a pass to an open teammate. He has the vision to spot his teammates through the layers and the passing accuracy to find them with the puck through those layers.
"When a player scores above a goal per game, it's rare that we see nuanced distribution play attached to it," says Robinson. "But in Öhgren's case, it's the definition of a dual-threat offensive weapon."
With his strong skating and passing ability, Öhgren is also excellent at transitioning the puck uphill, using his straight-line speed to support defenders before passing to a teammate or finding himself. a deviation to get to a danger zone. He's always looking to get the puck out of the defensive zone and into the offensive zone with possession and has the skill to accomplish that task.
Öhgren also has plenty of power in his game, with a chunky 201-pound weight already on his 6'1″ frame. It often seems impossible to knock the puck off. Consider this game where he practically throws his failure aside as he gains the zone before heading towards the net to undress the goalkeeper.
Then there's that game where he has defenders draped over him while he still managed to get to the slot and beat the goalie.
This strength on the puck shows in his fights on the boards, as he is ready and willing to fight to win a puck and quickly create a scoring chance.
Beyond the physical, Öhgren is smart on the forecheck, making great reads for catching passes in small groups and creating turnovers. His work-rate is noticeable in those moments, as he scrambles to cut off passing lanes, aided by his long reach.
"When he's on the forecheck, he has the speed and active stick to target puck carriers along the boards," says Josh Tessler in his scouting report for Smaht Scouting. "His active stick allows him to dictate where the offense goes with the puck."
"He really gives me Vasili Podkolzin vibes."
However, that same work rate doesn't always show up in the defensive zone, which is his main blow as a prospect. He's a top-notch attacking talent, but his defensive game needs to be worked on.
"Öhgren hasn't always played with the same level of enthusiasm in the defensive zone as he has in the offensive zone," says Elite Prospects, but they also note, "His physicality and sense of play are such that the base is there for at least an adequate level of defensive play as he climbs the professional hockey ladder.
Given his work rate and intensity elsewhere on the ice, Öhgren's defensive play seems like something that could be fixed over time.
That said, he's been compared to JT Miller, a physical offensive threat with questionable defensive play. Sometimes that defensive play just doesn't make it, even for hard-working players.
Scouting reports have also compared Öhgren to Timo Meier, Zach Hyman and Filip Forsberg, but Will Scouching had an interesting comparison for the Swedish winger.
"He really gives me Vasili Podkolzin vibes in a way, with a high pace of play, good 200-foot instincts, relatively good transition skill and hard-to-ignore scoring ability," Scouching said, which has Öhgren 13th in his analyses. -influenced draft rankings.
On top of everything else, Öhgren has the intangibles the team loves. There's a reason he was named Sweden's Under-18 captain. Scouts praise his maturity and coaching ability and that's one of the reasons why his defensive shortcomings may not be as big as they seem – he's the kind of person who will work diligently to improve its weaknesses.
"He's a top 10 player."
Öhgren is a remarkably versatile player, with an array of attacking skills combined with a willingness to play a tough, crushing game. He could very well turn out to be the Canucks' best option at 15th overall.
"The fact that he is already so advanced in all facets of the game will make him a coach's dream and provide him with opportunities earlier in an NHL roster than many players drafted before and around him," Robinson said. "He's a top 10 player who will probably be outside the top 10."