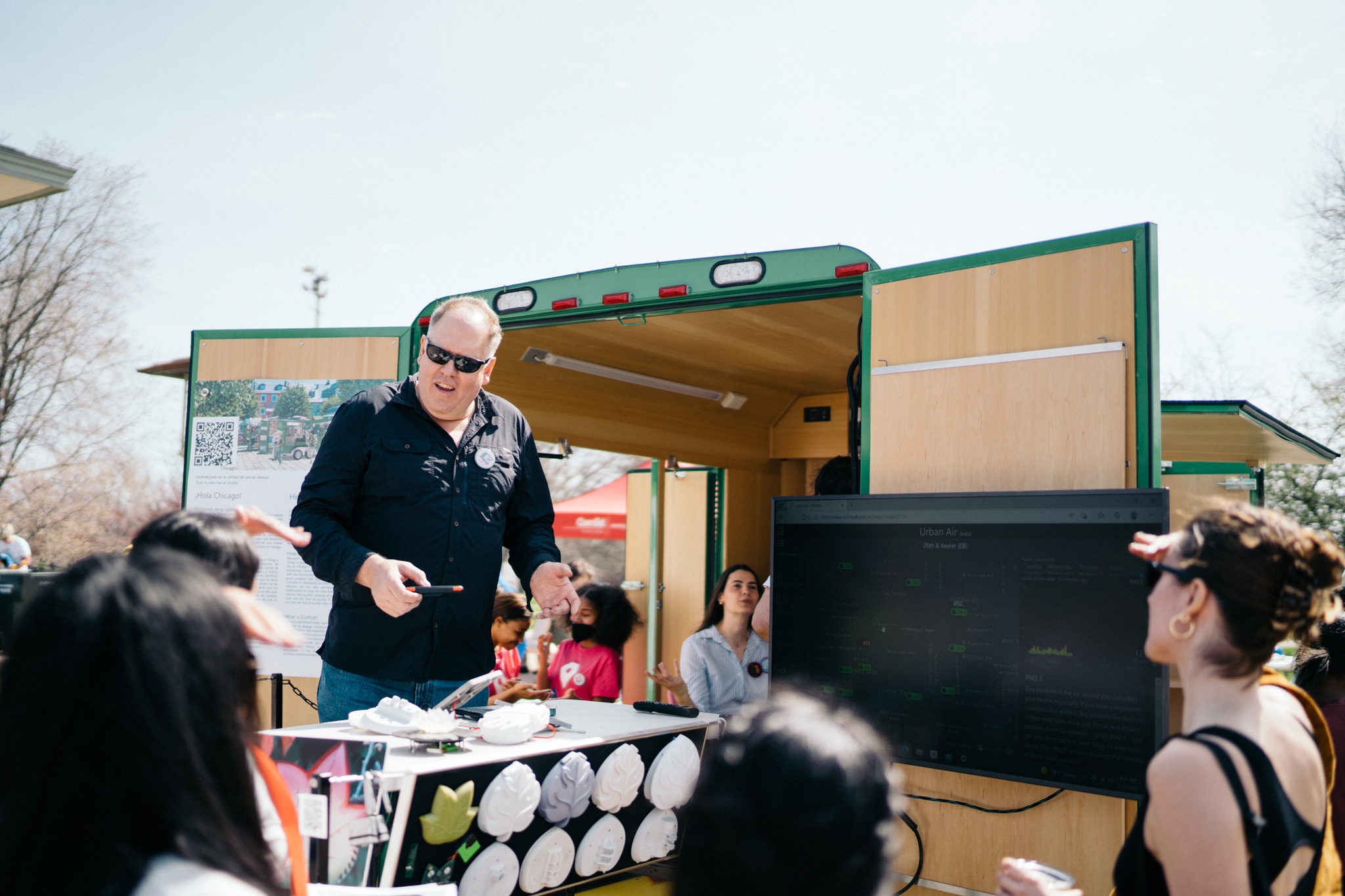 Toronto architects WZMH and Microsoft launch EcoPod
Soon in your neighborhood, to encourage citizen engagement in microenvironment issues, it's the EcoPod.
It's the short-lived product of a collaboration between Toronto's WZMH Architects, which has its own burgeoning Urban Innovation Center, and Microsoft, among others. WZMH Director Zenon Radewych explains that the EcoPod, a solar-powered trailer loaded with innovative climate sensors and gauges, was created to raise awareness of hyper-local environmental risks in cities and promote equity and resilience citizens.
Armed with knowledge of scourges such as heat islands and harmful air pockets, engaged residents can not only take action to improve the daily environment they live in, but advocate for better policy with politicians and town planners.
"This whole idea about IoT sensors and putting them in communities and cities, and monitoring data on air quality, water quality, this whole concept is extremely important to understanding what happening in the city," Radewych said.
"There are different parts of cities where the air quality is different. Why is it different? How can it be improved? Why are some areas really, really good quality?
"Getting this information is really important because it will really help city planners, city officials, civil servants understand where to make improvements and even plan the cities master plan."
Microsoft's EcoPod made its debut recently in Chicago and will eventually find its way into Toronto neighborhoods. It was designed by WZMH through Microsoft's Eclipse project.
Microsoft sensors are custom designed to measure CO, NO2, SO2 and O3, as well as various pollutants such as PM 1 and PM 10, as well as temperature, humidity and atmospheric pressure. Data is uploaded using LTE-M cellular technology to an Azure data stack.
The idea for EcoPod was born out of the Microsoft Urban Futures summer workshop held in July 2020, but WZMH's collaboration with Microsoft dates back three years earlier, when the tech giant learned of the WZMH's invention of a pre-engineered smart building product called the Smart Structural Panel.
The companies have communicated since then and after Microsoft asked WZMH for help developing the EcoPod, Radewych set about incorporating many of the things his company already uses.
"It has interior design elements, it has finishes, it has wood paneling and it has lighting. It has solar panels, and then it has this IoT component, sensors and other things, which are things that we play with on a daily basis in our lab," he said.
Not only does WZMH design buildings, but it is increasingly active in the design of materials and components containing custom-created software applications.
"Right now we're developing some cool apps that deal with sustainability," Radewych said. "One is about recycling. One is for street sensors. So the really cool things we do go beyond bricks and mortar.
These efforts differentiated the company from its competitors and drew WZMH's attention beyond the construction industry, beginning with Microsoft.
"I think it's fair to say that the construction industry is near the bottom in terms of innovation and innovation adoption," Radewych said. "There are a lot of opportunities to embed innovation, the world of IoT, into buildings, into sites, to make the way we live, work and play much better, much more sustainable."
Mining data and offering it to citizens is a mutually beneficial exchange, Radewych said — it's more than Microsoft venturing into building to sell technology. Collecting data, applying machine learning, and sharing results improves the lives of citizens, helps people and vehicles move better, ensures planners understand how the sun passes through communities, and makes generally the more livable neighborhoods, he said.
"I didn't know much about it a few years ago, but I'm starting to realize the value and power of data," Radewych said.
The apps, data and technology can also be applied to new construction as well as renovations, Radewych said — in fact, it's critical as Canada undergoes a major energy retrofit of its older buildings.
"Older building stock has to compete with newer building stock that may have some of these new technologies," he said.
Follow the author on Twitter @DonWall_DCN