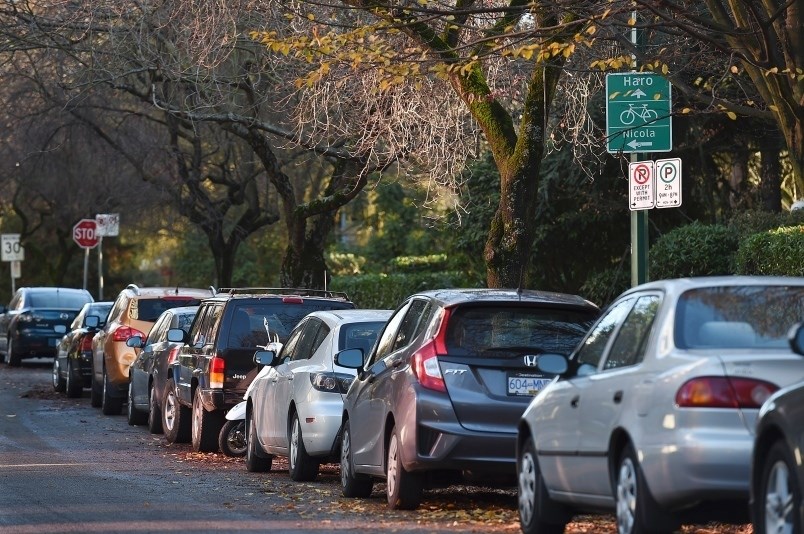 Vancouver lags behind emissions targets
The failed motion would have cut emissions by up to 14% and raised around $ 60 million for alternative transportation like electric vehicle charging stations, crosswalks and dedicated bus lanes. What will take its place is unclear.
Vancouver city council on Wednesday rejected a motion to impose annual pollution fees of up to $ 1,000 on new high-emitting gasoline vehicles and impose residential parking fees across the city.
In a narrow six-to-five vote, Mayor Kennedy Stewart tipped the scales in favor of removing what staff have dubbed the Climate Emergency Parking Program.
Stewart said he rejected the motion because he feared that soon "a landscaper living in a basement suite" would have to pay $ 1,000 a year for a 2023 pickup.
"It's not fair," he said in a written statement. "An effective climate action plan must be fair. I have asked the staff to find a better way forward, and I have no doubts that they will.
By rejecting the plan – which some experts have said could have set a precedent for cities around the world – city council brought Vancouver's ability to meet its own emissions targets to its knees.
The city is committed to reducing emissions to 50 percent of 2007 levels by 2030, while funding green infrastructure and alternative transportation to make the city of Vancouver liveable in an era of climate change.
The parking program is said to have raised about $ 60 million over three years to fund everything from priority bus lanes and pedestrian signals to the planting of over 1,000 trees, to the construction of over four kilometers of green infrastructure and the installation of hundreds of charging stations for electric vehicles. Staff also said the plan would have reduced carbon emissions by up to 14%, which is equivalent to tripling the reductions over the city's requirements for new zero-emission homes.
Doug Smith, the city's sustainability director, said staff spent a year and a half developing the emergency action plan, ultimately focusing on the cheapest and most equitable policies that would have the greatest impact.
By failing the weather emergency parking program, his team would have to look at the next level of options – more expensive and "maybe a little less acceptable" options.
"Or we are missing our targets," Smith said.
On a call with Glacier Media, the board. Christine Boyle said the result of the vote was a "total failure of leadership".
"It is unacceptable for governments to knowingly miss their targets without coming up with other ideas.
More soon…