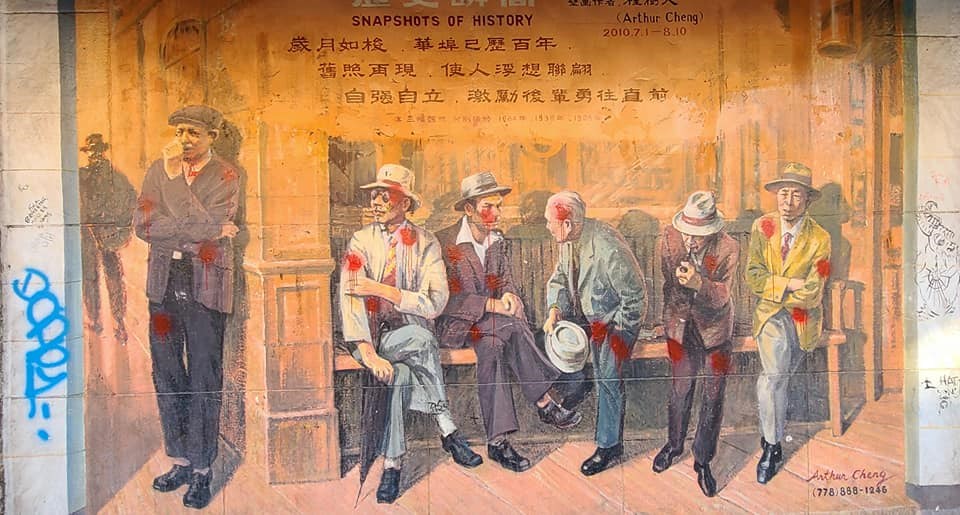 Vancouver Police Board releases strategy to tackle hate crimes
Chinese leader: "I know a lot of my friends who never reported the incidents"
A series of recommendations from citizens and police on how to reduce hate crime in the city and encourage more victims to report incidents will be discussed at the Vancouver Police Board on Thursday.
A report by Stephanie Johanssen, the board's executive director, was written in response to comments the board received during an online forum held on May 13 to discuss the rise in anti-Asian hate crimes in Vancouver, which climbed 717% from 2019 to 2020..
The report compiles recommendations and talking points for consideration, including those aimed at getting more victims to report what police have long viewed as an underreported type of crime.
"The collection of data on hate crimes is essential so that the police can investigate these crimes accordingly and provide adequate statistics so that effective responses can be implemented in the criminal justice system," the report said, noting the need for the government to be involved in data collection.
"Data collection is an area where government should play a role – to define the parameters and the permissible criteria, taking into account confidentiality considerations."
The report suggested that the government change laws to allow police "to collect data on victimization at a disaggregated level to include information on identifiable groups."
Currently, the report adds, data is collected subjectively or through self-disclosure due to freedom of information and protection of privacy legislation.
To support such a shift, it would be important to have standardized annual surveys to track victimization rates and police-reported non-criminal incidents, according to the report, which also calls for the creation of a provincial committee made up of police officers. experts from police, human rights and "fairness groups" to examine current practices and recommend solutions.
The report cites national statistics from 2014 which show that Canadians self-reported 330,000 incidents perceived to be motivated by prejudice, prejudice or hatred. However, in the same year, Canadians reported to police only 1,295 criminal incidents determined to be motivated by prejudice, prejudice or hatred.
In Vancouver, this discrepancy was confirmed by Fred Kwok, president of the Chinese Cultural Center, at the forum on May 13, when he told viewers that he believed the hate crimes reported in the past year only amounted to 'one third of all cases.
"I know many friends who never reported the incidents," said Kwok, who said Ice cream media in a recent interview that many victims believe that no action will be taken against the perpetrators.
This was one of the reasons identified in the 2014 General Social Survey on Canadians' Safety report produced by Statistics Canada.
The most frequently cited reasons for not contacting the police were that the crime was minor and not worth reporting, that the offender would not have been convicted or adequately punished, or that there was a lack of evidence.
Kwok, who is also president of the Chinese Benevolent Association, said the increase in hate crimes against Asians occurred after then-US President Donald Trump began labeling COVID-19 of "Chinese virus".
In the report, the VPD acknowledged that not all victims are willing to report a hate crime to police due to "perceived barriers and concerns" with law enforcement. There must be a way, the report said, for citizens to report crimes through a channel other than the police, such as the E-Comm 911 service.
VPD statistics for the first three months of this year show 15 reports of hate crime incidents against East Asia, up from nine last year and four in 2019 for the same period. The peak in reports occurred two months after the pandemic was declared, with a combined total of 50 in May and June 2020.
Since that peak, police have arrested people linked to hate crimes, including a man who allegedly scribbled hate messages on the cultural center and another man who was filmed throwing an elderly Asian man to the ground.
Police say they are also investigating an incident in which a person or persons vandalized a mural in Chinatown in June. The three-panel mural on the side of a building on Columbia and East Pender streets was marked with spots of red paint, which appeared to represent gunshot wounds in images of Chinese pioneers.
Recently, the VPD added forms to its website in Traditional and Simplified Chinese for victims of hate, prejudice or prejudice to fill out. The forms are also available in Japanese, Tagalog, Vietnamese, Korean, Persian, Arabic and Punjabi.
The name and contact details of a VPD hate crimes investigator – Detective Constable Gagan Luddu – were also recently added to the ministry's website.
Although anti-Asian hate crimes are on the rise, police data for Vancouver released ahead of pandemic broadcasts Jewish, Muslims, LGBTQ2S and Blacks are disproportionately targeted.
Indigenous peoples, South Asians, West Asians, Arabs, Buddhists, Sikhs, Hindus, Jehovah's Witnesses, Protestants, Catholics and "multiple races / ethnicities" were also captured in data published on the VPD website in 2019.
According to police, the most frequently investigated types of crimes or incidents relate to graffiti, harassment, assaults and suspicious circumstances.
Thursday's police council meeting begins at 1 p.m. and will be webcast live on the council's website. The full report on tackling hate crime can be read here.
@Howellings