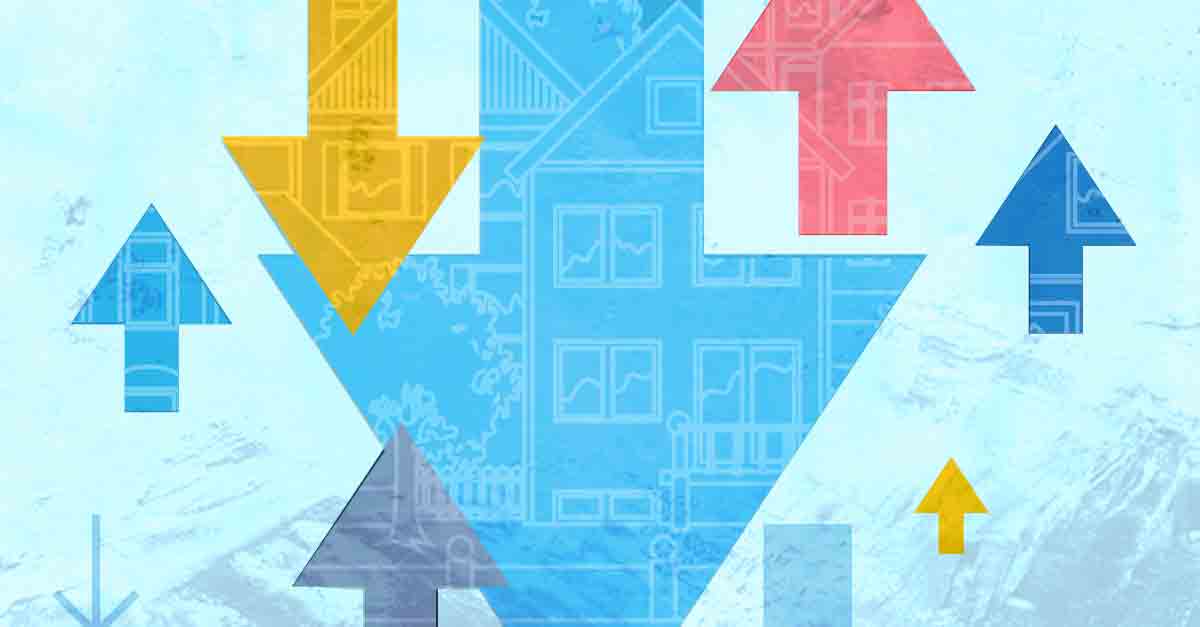 What is the most expensive market in Canada? The answer just changed
It seemed like one of those unshakable facts that Vancouver reigns supreme as Canada's most expensive market. It has been that way for so long (decades!) and by such a wide margin. No more. Toronto won that crown last month. Early reports from local real estate boards showed Toronto's composite benchmark MLS HPI ($1.260 million) ahead of Vancouver's ($1.255 million) in January. It's a surprising development but not entirely surprising given the turmoil in the Toronto area market, especially since the fall. Toronto's benchmark price has soared over the past five months, including a staggering monthly increase of 4.3%, or nearly $52,000, in January alone. Prices in Vancouver have also accelerated, but not to the same extent.
Solid demand and a dearth of supply kept conditions scorching in Canada's major markets heading into 2022. A big jump in home resales in Calgary last month provided evidence that the strength is actually continuing to expand. We believe activity will remain exceptionally strong in the short term domestically, although we expect the Bank of Canada's rate hike to begin to calm things down later this year. Accompanied by an expected significant increase in housing completions, we believe this will gradually reduce the extreme imbalance in the market and ultimately moderate the pace of price appreciation. For more details on our market outlook for the year ahead, please see The Fever Ends: Canada's Housing Market Will Slow, But Remain Strong in 2022.
Toronto area — Now the most expensive market in the country
It will take more than a spike in Covid-19 cases and a major snowstorm to significantly slow the market. Activity remained exceptionally robust last month despite the reimposition of pandemic restrictions and Mother Nature dumping the thickest snow cover in a decade on the region, with home resales down just 0, 7% from the December high. The scarcity of stocks has undoubtedly slowed the pace once again. Listings in progress ended the month still near their historic lows (down 44% year-on-year). Competition between buyers is fiercer than ever. Intense bidding wars pushed prices to new highs in both level ($1.260 million for the MLS HPI composite benchmark) and rate of increase (33.3%). In fact, the Toronto area has now become the most expensive market in Canada, with its benchmark price exceeding that of the Vancouver area ($1.255 million) for the first time in decades. Buyers are particularly keen on single-family homes (prices up 36% y/y, with gains exceeding 40% in Durham and Peel regions) but are also increasingly interested in condos (prices up 26% a/a). We don't see much that will materially alter these near-term trends, but we expect higher interest rates to gradually cool things down later this year.
Montreal Region — Hold On
Market activity has trended largely sideways since the spring of 2021. January was no different, with home resales remaining within the recent range, only a modest 3% estimated from December. The larger 27% year-on-year decline was more reflective of the unusual strength from a year ago. The shortage of houses for sale in the Montreal area continues to be a major obstacle for the market. And this is felt throughout the region with active registrations at the lowest on the Island, in Laval and on the North Shore and South Shore. Sellers hold a very strong negotiating position across the region. Buyers, however, raised prices more aggressively in the suburbs, notably the North and South Shores, where median prices rose the fastest in January (between 18% and 35% y/y). With commuter prices still running at 16% to 30% discounts to island prices, we expect this momentum to continue in the near term.
Greater Vancouver—New Year, Same Challenges
Low inventory continues to be a major irritant for buyers heading into 2022. Active listings have barely risen from a multi-decade low last month, significantly limiting buying opportunities . Still, we estimate home resales rose 8% m/m (seasonally adjusted) – although down 4.4% from exceptionally high levels a year ago – as buyers rushed on the new registrations available. Successful bidders had to be more aggressive on the prices offered. That sent the region's MLS HPI composite benchmark soaring 18.5% y/y to a new high of $1.255 million. Single-family home prices (up 22.7% year-over-year) led the gain, although condominiums (up 14%) continued to narrow the gap. We expect tight supply and demand conditions to maintain considerable upward pressure on prices for all housing types in the near term.
Calgary—Booming Start to the Year
The market soared in January, with activity hitting a record high for the month. Home resales climbed 66.4% year-over-year and about 23% month-on-month on a seasonally adjusted basis. Demand has been exceptionally strong for single-family homes. However, condominium apartment transactions have grown the fastest (+94% year-on-year). Inventories are less constrained for condominiums (down 19% y/y) than for single-family homes (down 47% y/y). Supply and demand conditions tightened significantly across the board last month, adding steam to prices. The composite MLS HPI accelerated further to reach a rate of 11.7% y/y. We expect even steeper increases in the near term. A stronger outlook for the provincial economy, led by a booming energy sector, has significantly boosted housing market confidence over the past year.
Robert Hogue is a member of the Macro and Regional Analysis Group at RBC Economics. He is responsible for providing analysis and forecasts for the Canadian housing market and for provincial economies. His publications include housing trends and affordability, provincial outlooks and provincial budget commentaries.
Warning