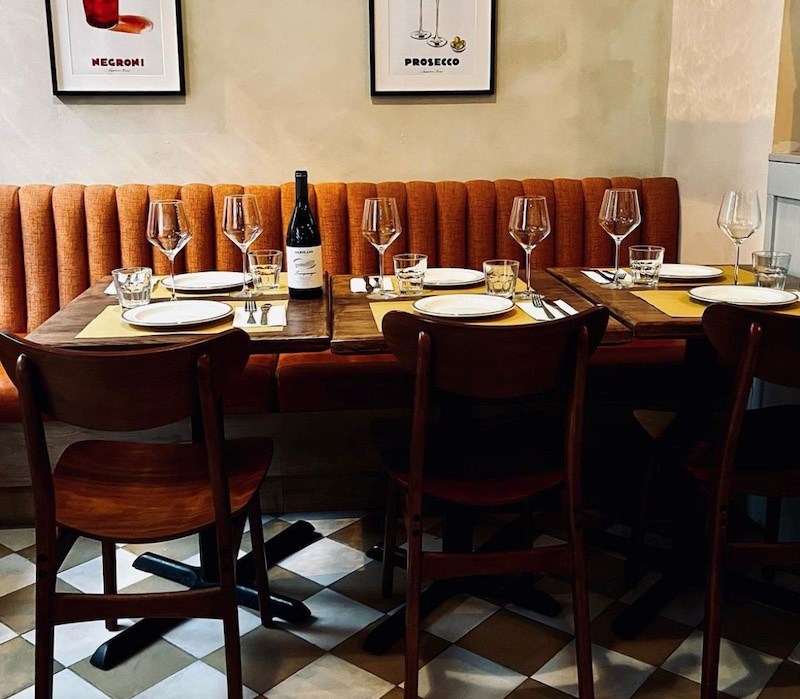 What new restaurants are there in Vancouver, British Columbia right now?
With sushi like you've never seen before, the super cool convenience store of your dreams, and so much more.
The only constant about the Vancouver restaurant scene is that it is constantly changing. One day closing doors can mean another opportunity for someone else to open their dream restaurant – or expand their empire. While there is a lot to be said about dining at your favorite familiar spots, when you're in the mood to try a new place, there is always plenty to choose from in the city.
We've rounded up 10 of the hottest new restaurants in Vancouver. Put these newly opened spots on your must-try list this fall.
Fiorino
This is a new destination in Chinatown for Italian food, especially food inspired by street food in Florence, Italy. The place day and night offers a casual lunch centered around a simple sandwich made from schiacciata, a bread similar to focaccia, which the owner grew up in Italy. After aperitif time (drinks and snacks), dinner features pasta, salads, sharing platters, and a gnocchi dish we hear is to die for.
Address: 212 East Georgia St
Nancy Go Yaya
This project from the same top-notch team as Vancouver's acclaimed Bao Bei and Kissa Tanto is all about Singaporean comfort food, like laksa, nasi goreng, and kaya toast. While the restaurant currently offers day-only service, Nancy Go Yaya aims to provide an evening wine bar experience soon.
Address: 265 E rue ​​Pender
Roosh
If you blink, you've missed Country Roads BBQ moving into Peckinpah's Place in Gastown. Today the address is home to Röosh, a restaurant that celebrates Swiss comfort food, such as rosti (fried potatoes) and fondue.
Address: 2 rue de l'eau
Vacuum Kitchen Laboratory
For something a little different, check out Downtown Lab. The restaurant, which serves lunch and dinner daily, centers on food prepared under vacuum, a technique of cooking ingredients in a water circulator that have been vacuum sealed in bags. The result is dishes finished quickly and made with less cooking oil or butter.
Address: 575 West Georgia Street
It Works Crêperie
A new spot for authentic French pancakes has just opened in Vancouver. Located along the growing "restaurant row" of Vancouver House's development, Ça Marche comes from the team behind French bistro Au Comptoir de Kitsilano. You will find a menu of savory buckwheat pancakes (eg smoked salmon, Paris ham or eggplant) or traditional sweet pancakes (eg Suzette, banana or spicy honey). The restaurant is open from Wednesday to Monday from 5 p.m. to 10 p.m.
Address: 1471 Continental Street
Souvlaki skewers
Doors are slated to open on November 10 at Skewers, a Greek offering in historic Gastown (in the former Sardine Can spot) that's all about souvlaki – aka skewered meat. Enjoy the meat served on a plate with golden fries, or in a gyro-style wrap, with all the sauces and toppings.
Address: 26, rue Powell
Kin Kao song
The sister location of the popular Kin Kao of Commercial Drive is operational and serves classic Thai dishes as well as natural wines in a modern space. Look for snacks, entrees, and main dishes rich in bold Thai flavors. Walk-in only and no take-out yet; dinner available from Thursday to Monday from 5 p.m. to 10 p.m.
Address: 317 E Broadway
La Cantine Drive
The folks behind Vancouver's hugely popular DL Chicken, Downlow Burgers, and Vennie's Subs are back – this time around, they've created the ultimate convenience store of your dreams, complete with collectible sneakers and street art. They whip up loaded "choose your own adventure" nachos, specialty hot dogs, and stock local and top brand snacks of all kinds, including their own line of kernels. On-the-go options include quick and affordable cold bites like noodles, spicy pickles, and things like homemade pizza pops to warm up at home. Once they're up and running, they'll give Starbies a run for their money with coffee drinks, as well as soft drinks and shakes, slushies and the most mind-boggling range of non-alcoholic drinks under one roof.
Address: 1111 Rue Commerciale
Cofu
This new place for pressed sushi on Granville Island hopes to show Vancouver something they haven't seen before. "Cofu offers pressed sushi that allows customers to customize the type of rice and the combination of ingredients and sauces," the company explains. The result is a menu with a dazzling array of options in the meat, seafood and vegetable categories, as well as French-inspired sauces. The food is colorful, and the menu gives customers plenty of choices to customize their sushi experience, including vegetarian, vegan, and gluten-free.
Address: 1833 Anderson Street
Eleventh district
There's a new place to go for late-night Asian fusion food in Vancouver. Called District Eleven, the "cook-run" restaurant is the next chapter in the business which had many loyal customers in its previous iteration like Pho Pho You in New West. Pho Pho You was unfortunately destroyed by fire, but the team was supported by a crowdfunding campaign and is making a fresh start. The official opening is scheduled for November 11.
Address: 4063 Main Street